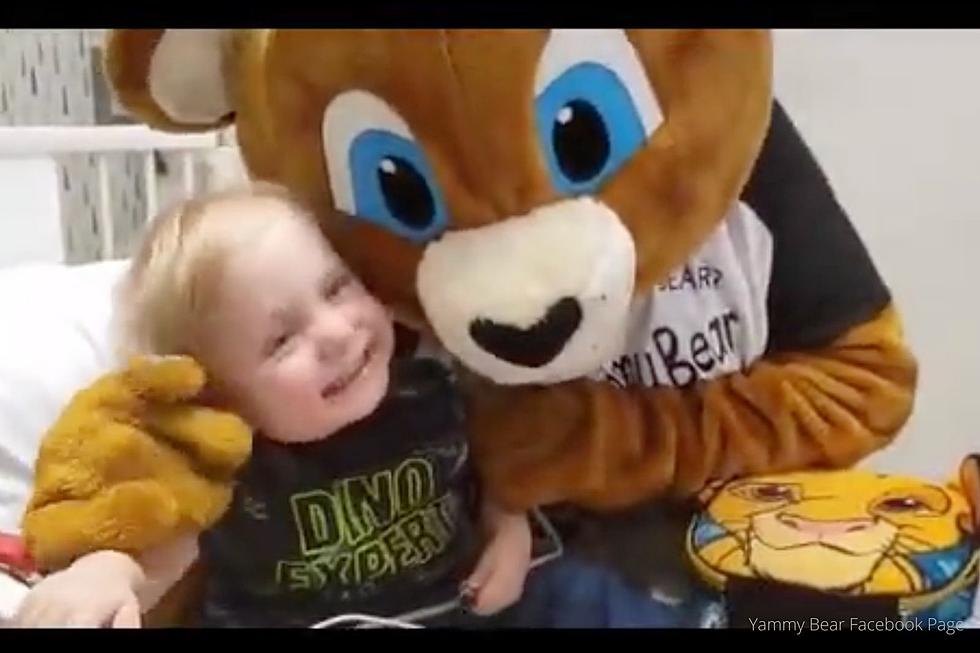 3-Year-Old at Mayo Clinic Needs One Thing to Survive – Your Kidney (VIDEO)
Credit: Yammy Bear
Best Video You'll Watch on the Internet Today (oh...and grab some Kleenex!)
Grab some Kleenex because this video of a 3-year-old who is a patient at St. Mary's will have you tearing up!
Just a few weeks ago I told you about Yammy Bear, he's a new mascot that has shown up in Rochester who is all about bringing smiles and showing love to everyone...because, well, not sure if you've noticed but the past year has been pretty tough.  For one family though, it has been harder than you or I could ever imagine.
One of Yammy Bears latest visits was at St. Mary's hospital where he was bringing some smiles to a 3-year-old named Atreyu.  When little Atreyu was born in California, his mom dropped everything and came to the midwest to get him the medical help he needed. He was born with ESRD and so that unfortunately means that without dialysis he's not able to sustain life on his own and has been receiving dialysis his entire life.  Right now, he's on the waitlist for a new kidney.  Oh, and he loves the song from "Frozen"!  See it for yourself in the video below that Yammy Bear posted:
Three Easy Ways to Help Atreyu Find a Kidney
Quite a few people have been asking how they can help this sweet three-year-old.  Lots of ways and some that don't require anything other than a click, but it could be the click that saves Atreyu's life. 
1️⃣ Share this story on your social media page...because someone is a match for Atreyu and that match could be found because you shared the story!
2️⃣ Give this story a 👍, ❤️, or comment on the Y-105FM Facebook page, my Facebook page - Jessica On The Radio - and on my Instagram page.  Every little emoji or action you take on a story that is posted will help increase the chance that someone who is a match will see the story.
3️⃣ See if you are a match!  Go to the Mayo Clinic link here to find out more info on this process.  The info you will need to know is his name (Atreyu M. Sanford) and his birthday (6/19/18).
What celebrities have been to Rochester, Minnesota as patients?
It isn't public knowledge how many celebrities have been in Rochester as patients at Mayo Clinic but we do know that list is quite extensive!  We've got a list of a few that we do know about and you can see those if you scroll a little bit farther.  Although we don't know all the celebs that have been here, we do know this...if the celebrities come to Mayo Clinic for care, we know that Atreyu is in good hands!
Listen to Jessica Williams weekdays from 6 am until 10 am on the Y-105FM Early Morning Show with James and Jessica.
12 Celebrities Who Have Been Patients at Mayo Clinic in Rochester, Minnesota
When you are one of the best hospitals in the world, you are going to attract some celebrities. The Mayo Clinic in Rochester, Minnesota has seen quite a few throughout its history.