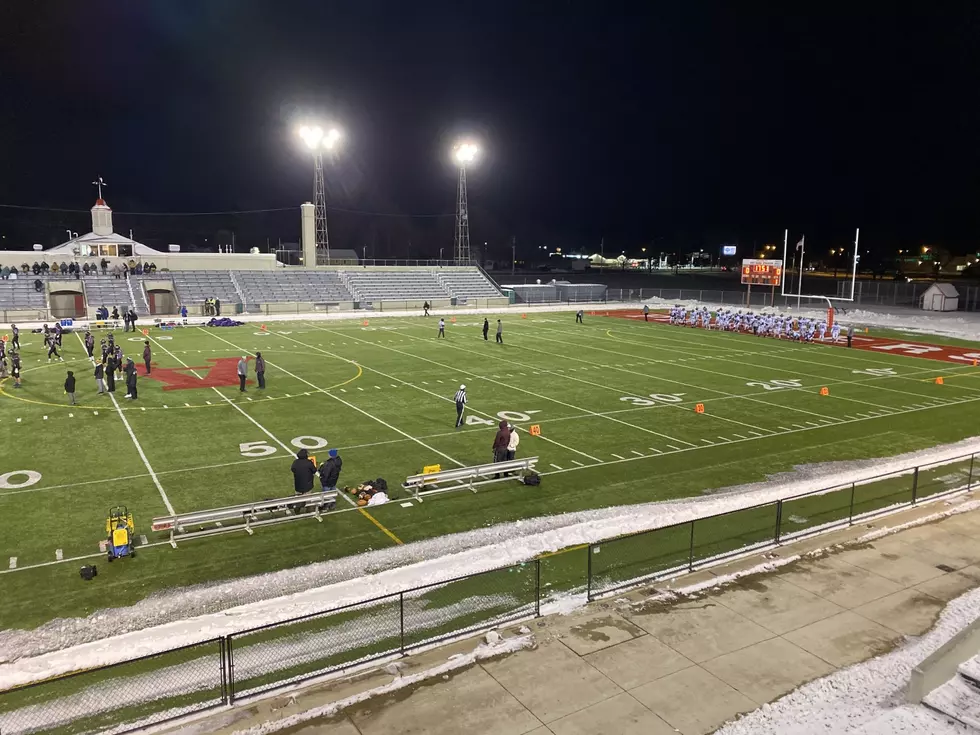 Grand Meadows Falls To Top-Ranked Mountain Lake Area In State Quarterfinals
LL/TSM Roch
The Mountain Lake Area Wolverines had a fast start and capped it off with some great defense to top Grand Meadow in Austin in the 9-man State Quarterfinals Friday night. The Wolverines came away with the 42-14 win and advance to U.S Bank Stadium for the State Semifinals.
Abraham Stoesz was the leader of the Wolverine offense and it was proven on the first drive of the game. Stoesz connected with Adam Karschnik on a 3-and-13 on the first drive of the game to keep the drive alive. Two plays later, Stoesz escaped pressure from the Superlarks and streaked down the sideline for a touchdown and an 8-0 lead.
Mountain Lake forced a punt and drove down the field to score again in the first quarter and take a 14-0 lead. The Superlarks were able to get some things working on their second drive of the game, but an interception by Stoesz ended the first quarter and gave Mountain Lake the ball. That is when Stoesz put an exclamation point on the first half.
The very first play of the drive Stoesz went 48-yards to the endzone and Mountain Lake took a 20-0 lead.
Grand Meadow forced a turnover halfway through the quarter and put together their best drive of the game, traveling 90 yards all the way to Wolverine territory. It was a fourth down and goal and Evan Ohelke looked to connect with Ben Kraft in the endzone, but Stoesz was able to break the pass up at the last moment.
The Superlarks trailed 20-0 at the break and weren't able to find the endzone until partway through the fourth quarter in a Dusty Copley 45-yard touchdown run.
Stoesz finished the day running for four touchdowns and throwing for another in the 42-12 win for Mountain Lake. The Superlarks were able to force a fumble late in the fourth and scoop and score to finish off their scoring for the day. The Superlarks did a good job of containing the Wolverines offense in the second half but struggled to move the ball against a talented Wolverines defense.
It was a great season for the Superlarks, finishing 10-2 and winning Section 1, one of the toughest in the state.
Mountain Lake will take on Win-E-Mac in the State Semifinals on Friday morning.