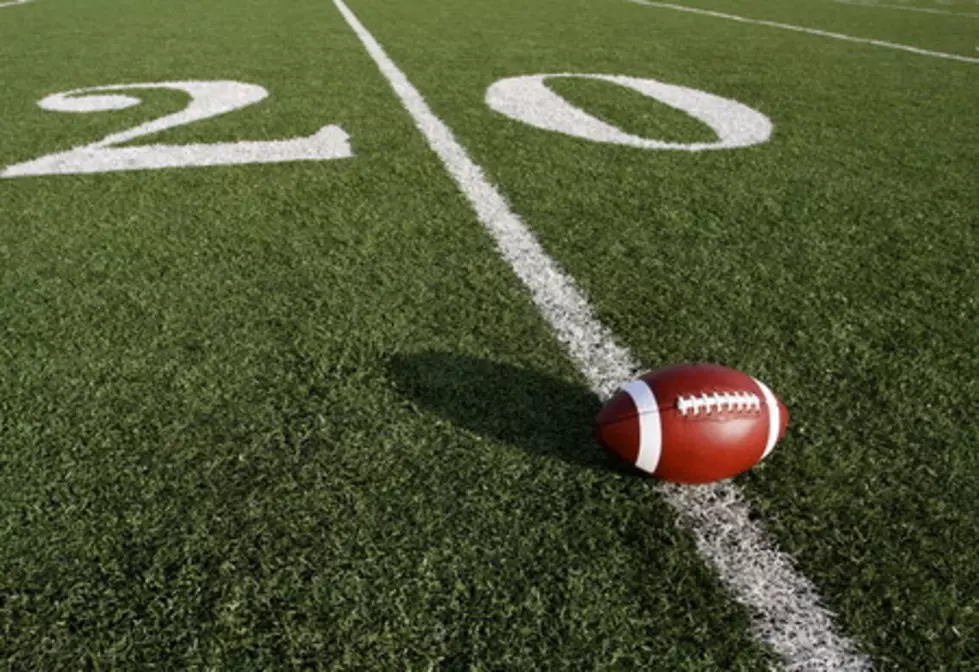 Several Thrilling Finishes on Section Semifinal Saturday
ThinkStock
It was another busy night of high school football with many games in Southeast Minnesota coming down to the wire! Check out some scores and highlights from the thrilling finishes below!
Section 1 9-Man Semifinal Results
#1 Lanesboro tops #4 Southland 45-21
#3 LeRoy-Ostrand beats #2 Grand Meadow 39-34
The Lanesboro Burros won their 10th straight game to advance to the Section 1 9-man finals and they will take on LeRoy-Ostrander on Friday night. The Burros were able to stretch out their lead in the second half to take down the Rebels. The Cardinals had a couple of early turnovers in their matchup with Grand Meadow and trailed 12-0 early. Then, the Cardinals scored 25 unanswered to take a 25-12 lead. The Superlarks made a late push to come back, but the Cardinals were able to get a couple of late first downs to secure the 39-34 win.
Lanesboro and LeRoy-Ostrander will meet for a trip to the state tournament on the line on Friday, November 5th.
Section 1A Semifinal Results
#1 Rushford-Peterson scores late to top #4 Randolph 21-14
#2 Fillmore Central comes back to take down #3 Faribault BA 21-16
It was two thrilling finishes in the Section 1A semifinals Saturday night with both Rushford-Peterson and Fillmore Central scoring late in the 4th quarter to secure trips to the section championship game.
Rushford-Peterson had a 14-7 lead with just over 2 minutes left in the game when Randolph hit on a hook and ladder to tie up the game at 14. Randolph then intercepted Rushford-Peterson on the Trojans' next drive. The Trojans forced a punt and then with just 24 seconds left Rushford-Peterson scored to take a 21-14 lead and the game.
Fillmore Central trailed Faribault BA for much of the game, but the Falcons really found their groove in the 2nd half and it was on the ground. Fillmore Central was able to come within one score in the 3rd quarter to make it 16-15. Holding on to the 1-point lead, BA was able to stop the Falcons on a goal-line stand to keep it 16-15 in the 4th quarter. The Falcons got the ball back late in the final frame and scored with just 56 seconds left to take a 21-16 lead and held on for the win.
Rushford-Peterson and Fillmore Central will play for the section championship. It is the first time both teams have been to the section final since 2016 when Rushford-Peterson topped Fillmore Central 22-21 to go to state. The game will be on Friday, November 5th in Winona.
Section 1AA Semifinal Results
#1 Chatfield takes down #4 Triton 54-0
#2 Goodhue wins shoot out over #6 Lewiston-Altura 48-28
The Chatfield Gophers are really finding their groove; taking down Triton 54-0 to return to the Section Championship game. Sam Backer had 198 rushing yards and 5 TDs in the win for the Gophers.
Goodhue and Lewiston-Altura found themselves in a shootout. Trading scores throughout the first half, the Cardinals and Wildcats were tied at 28 in the half, but Goodhue was able to lock down defensively in the 2nd half to get the 48-28 win and advance to the section final.
Chatfield and Goodhue will meet on Friday, November 5th for the section championship in Kasson.
Section 1AAA Semifinal Results
#1 Cannon Falls takes down #4 Rochester Lourdes 50-21
#3 Plainview-Elgin-Millville takes down #2 Lake City 23-7
Cannon Falls will meet Plainview-Elgin-Millville in the Section 1AAA final after each won their section semifinal games. The Bombers were able to take down the Eagles behind their strong running game, while PEM's defense was able to slow down a tough Lake City offense to secure the win.
Cannon Falls and PEM will meet on Friday, November 5th at RCTC for the right to go to state.
Section 1AAAA Semifinal Results
#4 Byron uses OT to beat #1 Stewartville 22-21
#2 Kasson-Mantorville takes down #3 Winona 45-14
Stewartville lead 14-0 with just 3 minutes to go in the 4th quarter, but the Bears were able to come back and tie it up at 14 to send it to OT. Stewartville scored on their first play in OT and kicked the extra point to go up 21-14. The Bears found themselves with a 4th and goal from the 1 and scored. Then, the Bears went for 2 and won the race to the pylon to win it 22-21.
Kasson-Mantorville took down Winona in the other semifinal to advance to the section championship. It is a rematch for the Section 1AAAA Championship as Byron and Kasson-Mantorville meet at Rochester Mayo High School on Friday November 5th.
Section 1AAAAA Semifinal Results
#1 Rochester Mayo takes down cross-town rival #4 Rochester Century 49-29
#2 Owatonna takes down #3 Northfield 33-7
It is a rematch for the Section 1AAAAA title as Rochester Mayo and Owatonna will meet again for the championship. Mayo and Century were battling back and forth throughout the game but the Spartans were able to extend their lead in the second half to get the win. Owatonna had a 14-7 lead at the half and was able to shutdown Northfield in the second half to secure a spot in the section 1AAAAA title game.
Mayo and Owatonna will play on Saturday, November 6th at Rochester Mayo High School.
Section 2AA Semifinal Results
#1 Blooming Prairie beats #4 St. Clair/Loyola 47-19
#2 Maple Rivers beats #3 Blue Earth Area 8-7 in OT
Blooming Prairie won their 10th straight game to advance to another section title game. The Blossoms have been ranked #1 in the state all season long and will have a tough test in the section 2AA finals as they take on Maple River. Maple River and Blue Earth Area were tied 0-0 after 4 quarters of play. Maple River scored and went for 2 to get the 8-7 win in overtime.
Blooming Prairie and Maple River will play at Janesville-Waldorf-Pemberton High School for the Section 2AA Championship on Friday, November 5th.
Jeff Bezos' Aunt is Selling Her Nearly $7 Million Minnesota Mansion
This incredible home on Lake Minnetonka has four bedrooms, seven bathrooms and is nearly 10,000 square feet. Priscilla Gise, who is Jeff Bezos' aunt, has listed the home for sale for
$6.95 million!
Check out why it got that price tag below!