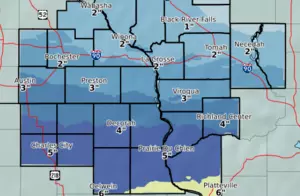 National Weather Service
Rochester, MN (KROC AM News) - Snow is expected across southeast Minnesota by Thursday afternoon and it could become heavy in parts of Fillmore and Mower counties by Thursday night and early Friday.
There is concern roads could become slick Thursday evening and during the Friday morning commute.
Slick roads from the snow that fell early Wednesday in southeast Minnesota contributed to numerous traffic wrecks and mishaps.  A Lonsdale man was killed in a wreck on I-35 near Northfield.
An elderly Byron woman was hurt in a crash on Highway 52. The Minnesota State Patrol says 84-year-old Mary Tweite was driving on Highway 57 and started crossing Highway 52 when she was struck by a minivan. Tweite was taken to St. Marys Hospital with non-life threatening injuries. The minivan was driven by 49-year-old James Ketchum of Horicon, Wisconsin. He wasn't hurt but his 19-year-old daughter Jordan was taken to Cannon Falls Hospital with non-life threatening injuries.
Get local and national news on the go.  Download our News-Talk 1340 KROC-AM App