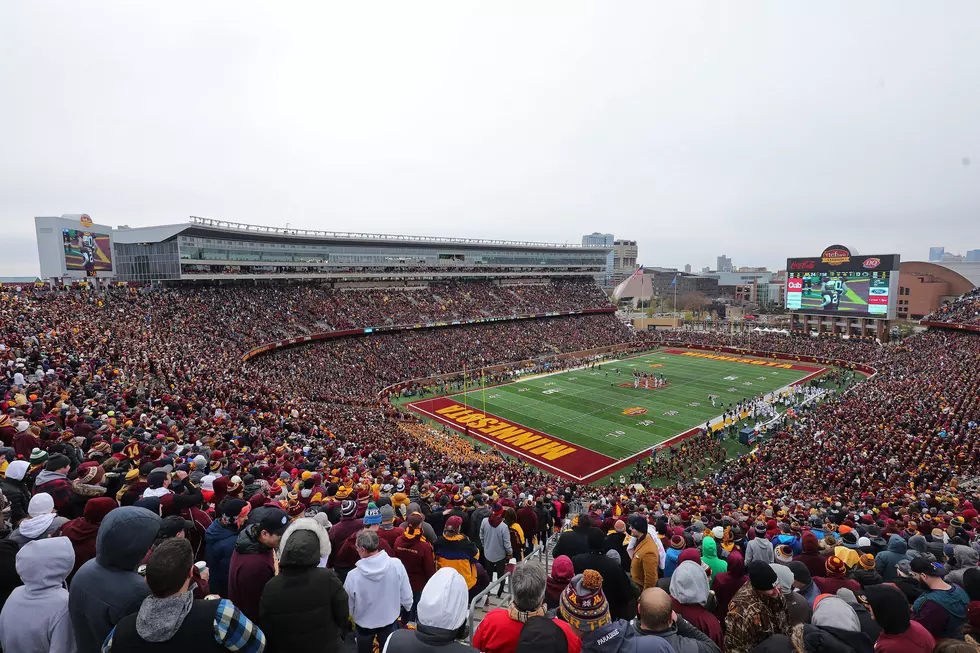 Gophers Add Alabama To Future Football Schedule – 10 Years From Now
Getty Images
Row The Boat vs. Roll Tide
Will Nick Saban and P.J Fleck even be the coaches of Alabama and Minnesota when this home-and-home series begins?
Probably not.
That won't stop Minnesota fans from getting excited for the chance to battle one of College Football's most historic programs.
The University of Minnesota and the University of Alabama announced today that Gophers and Crimson Tide will have a home-and-home series 10 years from now. The Gophers will host Alabama in 2032 while the Tide will host in 2033.
The Gophers are 1-0 all-time against Alabama, winning the 2004 Music City Bowl in Nashville 20-16. Marion Barber had a huge day for Minnesota, running the ball 37 times for 187 yards and a score, en route to being named the bowl game MVP. Laurence Maroney added 29 carries for 105 yards in the Gopher win.
Minnesota is 9-8-1 against current teams in the SEC. The Gophers most recent game against an SEC opponent was the 2020 Outback Bowl, where Minnesota beat Auburn 31-24 in Tampa.
LOOK: The story behind every NFL team name
Stacker
delved into the story behind every NFL football team name. Overall team records, also included, are reflective of NFL regular-season games. There are some football teams with well-known nicknames—the Jets, for instance, are often referred to as Gang Green—but we also divulge how some teams' official names are sparingly used (the Jets' neighbors, the Giants, are actually known as the New York Football Giants). Sometimes a team name can tell you a lot about local history: The Vikings of Minnesota draw upon the area's strong ties to Scandinavia, and the Tampa Bay Buccaneers are dripping in local legend related to Florida's pirate past.
Let's kick off the countdown with the folks who earned their nickname by buying boxes of used team jerseys.