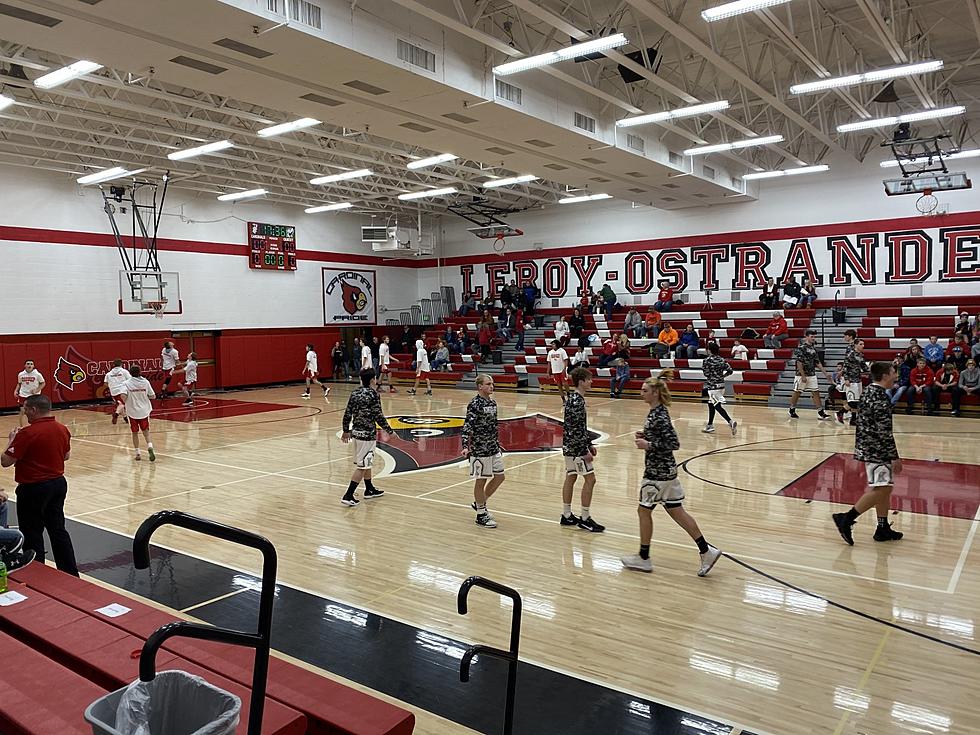 LeRoy-Ostrander Storms Back To Top Kingsland
TSM Roch/LL
The LeRoy-Ostrander Cardinals had a streak of great shooting, along with a clutch steal that propelled them to a 65-59 win over Kingsland Tuesday night in Southeast Conference Play.
The Cardinals were able to rally in front of their home crowd, coming back from a nine-point deficit in the second half. Trailing 45-36 with just under 10 minutes to play, the Cardinals went on a 13-4 run to trim the gap and eventually tie the game at 49 on a Levi Royston three-pointer.
The Cardinals got their first lead of the game on a Dakota Stoops three, his fifth of the game, at 52-51 with 4:30 to play. From there, Kingsland and LeRoy-Ostrander battled back and forth. The squads were tied up at 59 with under a minute to go when Tanner Olson jumped a passing lane and got a steal for the Cardinals and took it all the way to the hoop for a 61-59 lead, and essentially locked the game down.
The Knights were very fluid in the first half, getting some great scoring from Walker Erdman, who finished with 11 points, and then went inside and utilized Brady Musel in the second half. Musel was great and finished with 19 points in the game.
Kingsland led 30-22 at the break, and was causing problems on the inside all day for the Cardinals. Yet, in the second half, the Cardinals were able to find their footing and get the inside game going with Riley Olson to help start the comeback.
The Cardinals were led by Riley Olson, who finished with 22, while Stoopes added 15 and Royston 13.
LeRoy-Ostrander moved to 2-1 on the season with the win, while Kingsland fell to 1-2 with the loss.
Kingsley Mercantile Game Ball - Tanner Olson (LeRoy-Ostrander)