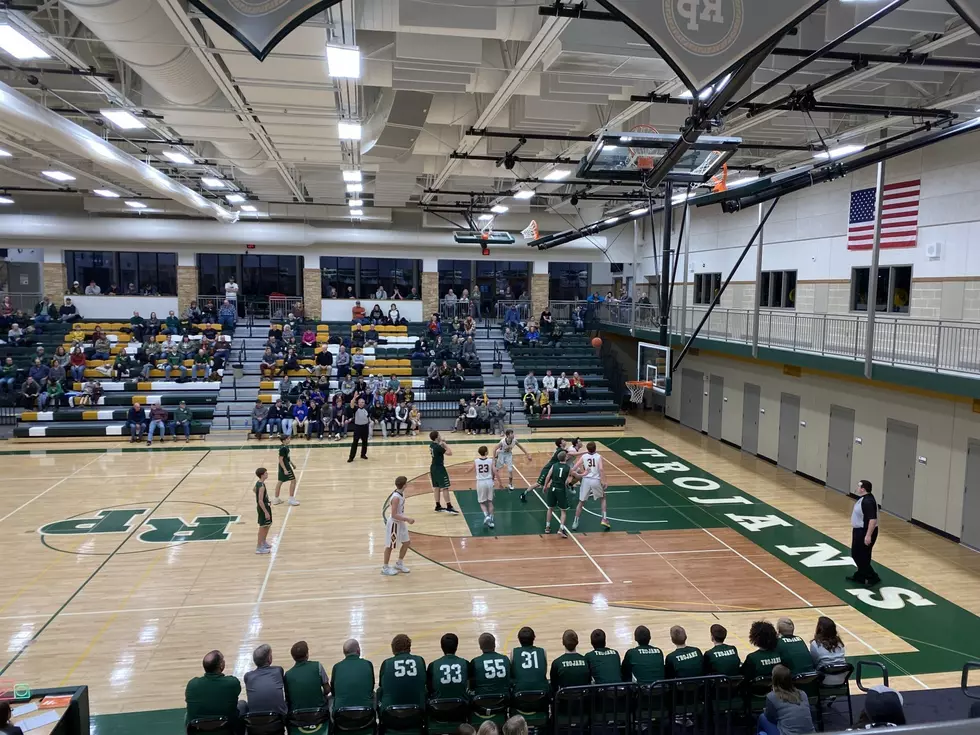 Last Second Put-Back Pushes Dover-Eyota Past Rushford-Peterson
LL/TSM Roch
Dover-Eyota's Blake Blattner tipped-in an offensive rebound with 2.1 seconds left to give the Eagles a 49-47 lead and eventual victory over Rushford-Peterson Tuesday night in Rushford.
It was a slow-paced first half that was tied at 21 at the break. The Eagles and Trojans traded buckets early in the game as Brady Williams led Dover-Eyota with seven points, while Luke O'Hare had six to pace Rushford-Peterson.
Both teams were patient on offense and trying to get looks near the rim, but both defenses did a good job of collapsing on drives to the paint and post-ups on the block. Dover-Eyota did a better job of getting offensive rebounds, which allowed them to get a big push to start the second half.
The Eagles jumped out to a 28-21 in the second half, but the Trojans were able to get some shots to fall as O'Hare and Justin Ruberg were able to hit one 3 each to help close the game. The Trojans were able to use that momentum and take a 43-41 lead with five minutes to go after an O'Hare 3, but Dover-Eyota came right back and got a bucket from Brady Williams to tie it at 43.
Dover-Eyota took a 47-45 lead after two free throws, but Rushford-Peterson answered right back with a make of their own after Ruberg won a battle for a loose ball and found Ben Wieser near the rim for a make. It was tied at 47.
The Eagles then ran nearly two minutes off the clock on the next possession before they called a timeout, and then drew up a play. Logan Riley received the inbound pass and drove all the way to the rim, missed his tough look, but Blattner was right there to clean it up and get a bucket with 2.1 seconds left and the 49-47 lead.
Rushford-Peterson turned it over on the ensuing inbound pass and the Eagles ran out the final ticks for the win.
Williams was great all game long, finishing with 21 points and 15 rebounds. Blattner added 13 points and 10 points. O'Hare added 18 points and seven rebounds to pass the Trojans, while Ruberg and Malachi Bunke added 10 points each.
Dover-Eyota moved to 7-8 with the win while Rushford-Peterson fell to 7-9.
Kingsley Mercantile Game Ball - Brady Williams (Dover-Eyota)
Enter your number to get our free mobile app