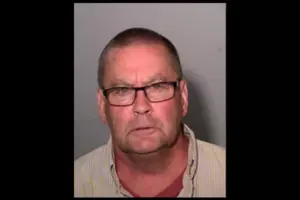 Exposer Caught at Minnesota State Fair
Ramsey County Sheriff's office photo
Falcon Heights, MN (KROC AM News) -  A Twin Cities man described as a serial exposer has been arrested again - this time after freaking out a woman and two young kids at the Minnesota State Fair.
Police say it happened Monday at the fair's popular Miracle of Birth Center, which attracts large numbers of families.
Police say a woman and two young boys were there when a man reached  into her shorts and grabbed her buttocks. The woman says she turned around and the man was exposing himself. The man fled when she screamed but he was caught nearby a short while later. Police were told by another woman the same man had exposed himself and masturbated in front of her and four children at the Birth Center.
Arrested was 62-year-old Jeffrey Pendzimas. He has a long history of similar incidents dating back to 1995. Several involved children. He was sentenced in January 2015 to 22 months in prison for a felony conviction of interfering with the privacy of a minor.