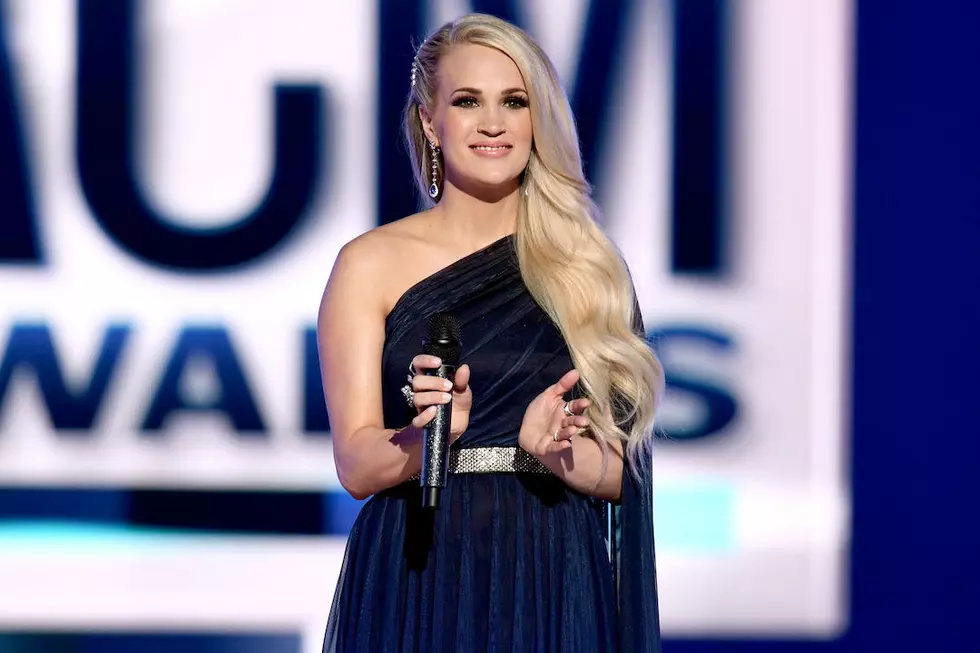 Carrie Underwood's 'Southbound' + 6 More New Songs You Need to Hear
Kevin Winter, Getty Images
Country singers shared a diverse group of new songs this week, from party anthems to soul-inflected ballads and nature-inspired meditations. Get 'em while they're hot! 
Carrie Underwood, "Southbound":
Carrie Underwood is kicking back and having a little fun with her latest single, "Southbound." In the uptempo song, Underwood sings about having the time of her life with good friends out on the southern waters: "We're comin' here for one round / To get a little southbound, unwound / Tennessee Honey kinda buzz / Them South sounds up loud / Summer drippin' over us / From the riverbank to the party cove / Long as it floats, we'll rock the boat / And it's all lookin' up when we get down, yeah / And get a little southbound, southbound ..." "Southbound" was written by Underwood, David Garcia and Josh Miller, and comes from Underwood's September 2018 release, Cry Pretty. -- CC
LoCash, "One Big Country Song": 
In "One Big Country Song," Chris Lucas and Preston Brust of LoCash remember all of the reasons why they love country music so much. "Turn it up and sing along / We all work 'til the daylight's gone / We all knock off the edge around five / Fall in love from a kiss on Friday night / And we've all had a broken heart / We've all closed down a few good bars / Take a look around, y'all, tell me I'm wrong / Ain't the whole wide world just one big country song?" "One Big Country Song" was written by Ashley Gorley, Jesse Frasure and Hardy, and will head to country radio on May 13. -- CC
Tenille Townes, "I Kept the Roses":
Following the success of her debut single, "Somebody's Daughter," Tenille Townes has shared the soulful track, "I Kept the Roses." Co-written by Townes along with Dustin Christensen and Chris Gelbuda, the new song will be the third track on the singer's forthcoming debut album.
"'I Kept the Roses' is one of my very favorite songs to sing," Townes explains on YouTube. "I love the message of holding on to the good in the hard things we go through. And being able to smile about the way that it shaped you." -- CL
Tyler Rich, "Leave Her Wild":
Tyler Rich's sophomore single, "Leave Her Wild," is all about appreciating the free spiritedness of your partner. In the uptempo song, Rich lets listeners know: If they fall for a strong-willed person, they can't try to tame them; they just have to let them be and embrace them for all that they are. "Leave Her Wild" was penned by Rich, Chris DeStefano and Jon Nite. The song is available as of April 26, but it won't hit country radio until May 13. -- CC
Chance McCoy, "No One Loves You (the Way That I Do)":
Old Crow Medicine Show's Chance McCoy spotlights an intricate, meandering string arrangement in his new single, "No One Loves You (the Way That I Do)," a new track set to be included in a forthcoming solo project.
"The lyrics were written about my time as a whitewater guide out west," explains McCoy, according to Rolling Stone. "I had to make that part up because I was lonely as hell back then; I was sleeping in the back of my truck. All I cared about was being on the river, riding those waves." -- CL
Chris Shiflett, "Liar's Word":
Foo Fighter and solo artist Chris Shiflett rocks out on his blistering new track, "Liar's Word." The anthemic country-rock track will be included in the singer's forthcoming album, Hard Lessons, out June 14. Shiflett recently wrapped a month-long, stripped-down acoustic tour with Elizabeth Cook. -- CL 
Abi, "Boomerang":
Rising artist Abi's latest song, "Boomerang," is a bubbly and upbeat tribute to a love that allows for independence, but always keeps both parties coming back for more. The singer tells CMT that she immediately connected to the message of the track.
"I am very much so a free spirit, impulsive and over-the-top kind of individual. And the song sings about those traits, and about the people in life that accept me for who I am," Abi says. "I am incredibly lucky to have those individuals in my life, so this song served as not only an accurate representation of me but as a 'thank you' to those in my life who are patient and accepting." -- CL