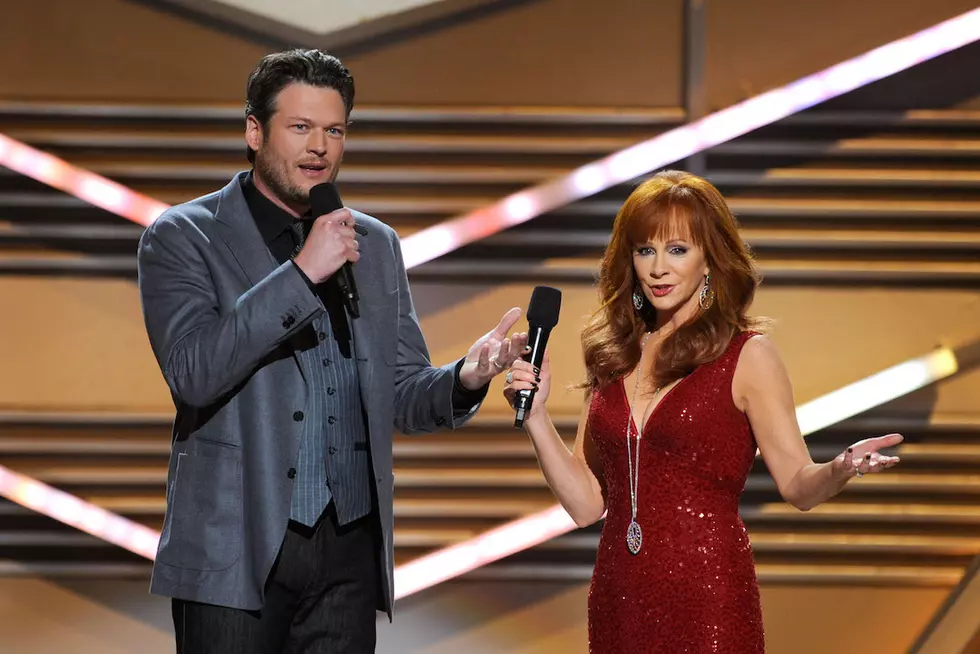 Blake Shelton Wasn't First Pick for Country 'The Voice' Coach — Reba McEntire Was
Ethan Miller, Getty Images
Blake Shelton has been a coach on all 17 seasons of the TV singing competition The Voice; his tenure on the show dates back to its inception in 2011. Though it may be difficult to imagine anyone else sitting in the country star's chair today, Shelton admits he wasn't the show's first pick from the country music community.
"If I'm not mistaken, they wanted Reba [McEntire] to be a coach on The Voice first," the singer explained during a The Voice event and showcase taking place at his downtown Nashville bar, Ole Red. "They knew they wanted a country artist to be a coach on The Voice, to fill that lane. So they called Starstruck [Entertainment]," McEntire's then-management company, also Shelton's management team.
"Reba, at the time, for whatever reason -- I think she may have had her [acting and producing roles in the sitcom] Malibu Country going at the time," Shelton recalls. "For whatever reason, she couldn't do it."
The singer jokes that maybe the issue wasn't that McEntire couldn't do it, but rather that before it was filmed and became the show viewers know and love today, The Voice's premise seemed a little outlandish. "Like, what is The Voice? It sounds dumb, right? Like, 'I'm in this chair, and I hit a button, and the chair turns around?' It sounded weird to everybody they pitched it to, probably," Shelton admits.
In any case, McEntire passed on the role; however, the Starstruck Entertainment President and CEO Narvel Blackstock (who was also McEntire's husband at the time) suggested booking another member of his roster for the coaching gig -- and that artist just happened to be Shelton.
"And I had done a show for NBC a couple of years before, called Clash of the Choirs, that was just a one-week seasonal thing. I was a coach for a choir there, and it was fun," Shelton recounts. "So they knew just enough about me that they rolled the dice and said, 'Okay, we'll try him.' At the time, I think [my collaboration with Trace Adkins], "Hillbilly Bone," had been a hit, and one other song, so I was on the radio. It was enough justification that, 'Yeah, he could be the country representative.'"
When he started work on the first season of the show, Shelton barely knew the artists and fellow judges who would come to be some of his closest colleagues over the seasons. His infamous bromance with former coach Adam Levine? It all started on The Voice: The pair had never met before the show started filming.
"I had never met Adam. I had obviously never met Christina Aguilera," Shelton points out. "Somebody had to remind me that CeeLo was the guy that sang with the Muppets on the Grammys.
"So it was magical, the way it all happened," he adds.
6 Unforgettable Country Moments From 'The Voice'