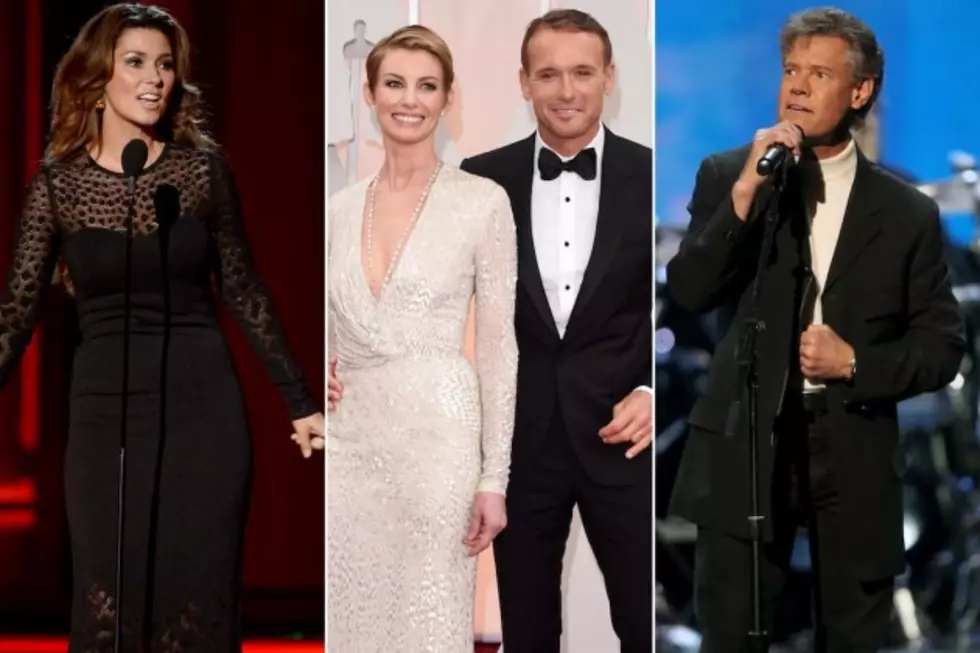 Top 10 Country Wedding Songs
Ethan Miller / Jason Merritt / Frederick M. Brown, Getty Images
Country music is the music of real life, and its fans keep the music close to them at all times -- especially the big occasions. There's no bigger moment in a person's life than the day they exchange vows, and country music is rich with love songs filled with pledges of undying love and devotion, perfect for couples on that most special of days.
Get out your hankies as we travel down that musical, rose-strewn path with some of the most romantic matrimonial tunes ever recorded in our list of the Top 10 Country Wedding Songs:
10

The Knot-Tier: "From here on after, let's stay the way we are right now / And share all the love and laughter that a lifetime will allow."

Strait plucked at the heartstrings of country gals everywhere with this tearjerker that anchored his movie Pure Country back in 1992. Since then, fans have danced that special first dance to this sweetly sentimental and longtime favorite tune.

9

The Knot-Tier: "It was no accident me finding you / Someone had a hand in it, long before we ever knew."

This power ballad became an instant classic with its release by Byrd in 1999. Luckily, in love there is often a bigger plan in play than what we know. Byrd's real-life wife and baby daughter were on set with him for added inspiration as he filmed the music video.

8

The Knot-Tier: "Through weakness and strength, happiness and sorrow / For better, for worse, I will love you."

Twain added even more emotional heft to this beautiful song when she recruited Bryan White to perform it as a duet. The declaration of love and devotion is a perfect celebration of the union between man and wife, echoing the vows that brides and grooms make when they take that walk down the aisle.

7

The Knot-Tier: "I could list a million things I love to like about you / But they all come down to one reason: I could never live without you."

This song is Montgomery's country variation on Elizabeth Barrett Browning's "How do I love thee? Let me count the ways." It evokes images of lovers dancing in the rain, stolen kisses and playful moments, reminding us that when we're in love, even the scent of our betrothed can leave us weak in the knees.

6

The Knot-Tier: "Better than I was, more than I am / And all of this happened, by takin' your hand."

Who better than country's power couple, McGraw and Faith Hill, to give us a smoldering love song about the overwhelming intensity of a lover's touch? The video for the tune permeates with the chemistry between McGraw and his wife, who was expecting their daughter Gracie at the time of filming.

5

The Knot-Tier: "I'll always remember the song they were playin' the first time we danced, and I knew / As we swayed to the music and held to each other, I fell in love with you."

Murray's golden voice has crooned this 1980 classic for the better part of four decades, giving newlyweds a reason to elegantly waltz across the floor while celebrating their big moment.

4

The Knot-Tier: "This much I know is true / That God blessed the broken road that led me straight to you."

This song by the Flatts celebrates the miracle and rarity of true love while also addressing the struggle we endure to find it, looking for that one exact match who will "get" us unconditionally, and how grateful we are when we find the person who can see past our shortcomings and love us anyway.

3

The Knot-Tier: "When I said I do, I meant that I will / 'Til the end of all time / Be faithful and true, devoted to you."

This 1999 duet between Black and his wife rocketed to the top of the country charts with its honest reminder of the eternal strength of marriage vows. Through thick and thin, in sickness and in health, the bonds stay strong.

2

The Knot-Tier: "As sure as I live, this love that I give / Is gonna be yours until the day that I die."

A quintessential love-for-the-ages tune, this Travis classic evokes the kind of deep, abiding love our grandparents vowed through hard work, struggle, lean times and happiness. The title itself inspires us to have hope that real love between two people can indeed exist -- and thrive -- through the years.

1

The Knot-Tier: "I rescued you, you rescued me / And we're right where we should be when we're together."

Brandt's 1996 hit tells of the all-encompassing love that can keep you safe and warm, answering the deepest doubts in your heart. This country wedding song's chorus, "I will, I am, I can, I have, I do," answers all the questions of what we hope someone will be for us from now until the end of time. It's a true wedding classic summed up in two powerful words.