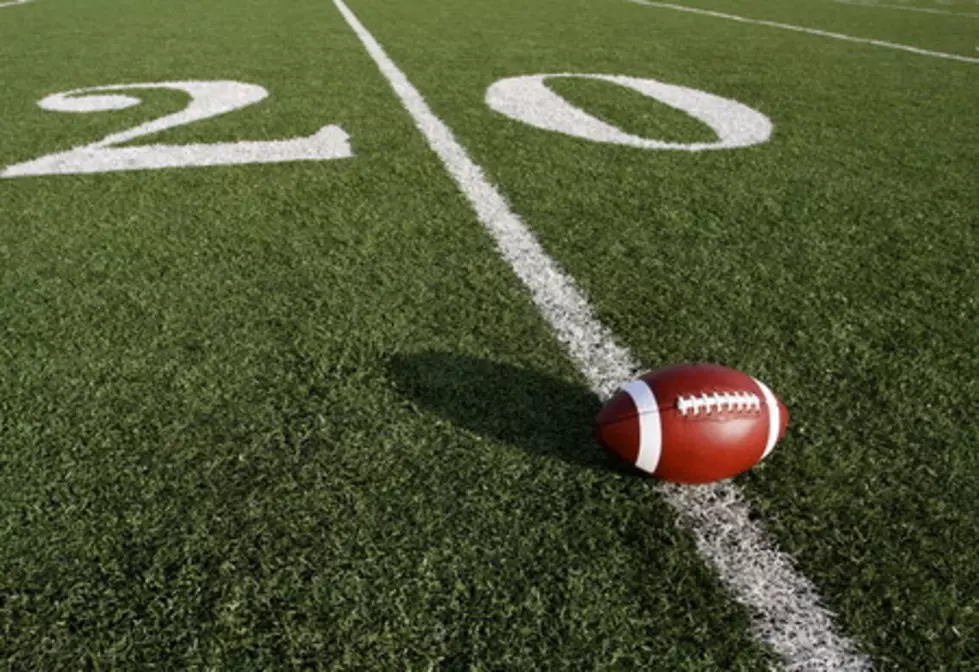 Several Area Games Go Down To The Final Seconds in Week 5 High School Football Action
ThinkStock
Several games across the area went down to the final moments in another busy week of High School football action around Southeast Minnesota.
Southland Runs Their Way To 46-14 Win Over Spring Grove
In our game broadcast on FUN 104, it was the Southland Rebels using a tremendous running game to take down the Spring Grove Lions. Brendan Kennedy was the story as he displayed his all-around game with over 100 yards rushing and receiving in this one and added in three touchdowns.
Southland jumped out quickly with the first 3 scores of the game, going up 20-0 in the 2nd quarter including two touchdowns from Kennedy and one from Christian Luthe. Eli Solum then struck on a 49-yard touchdown pass to Carson Gerard to make it 20-7.
The scoring continued in the 2nd half as Luthe ran in his second of four scores on the day in to make it 26-7, and then Kennedy scored his third touchdown and it was 32-7.
Spring Grove was able to take on a score before the half when Tysen Grinde connected with Caleb Griffin to make it 32-14 at the break.
Southland's offense was just not going to be stopped today, as Luthe found the endzone again to make it 39-14 and once more to make it 46-14 to bring his total to four touchdowns on the day.
Spring Grove turned the ball over four times in this one, and that was the big difference-maker in this one as Southland was able to capitalize and run the ball successfully to get the 46-14 win. Southland is now 3-2 on the season and Spring Grove fell to 2-2.
Player of the Game (Southland) - Brenden Kennedy
Player of the Game (Spring Grove) - Tysen Grinde
Kingsley Mercantile Game Ball - Christan Luthe (Southland)
Goodhue Upends Caledonia in 3OT Thriller 39-33
The Goodhue Wildcats forced a turnover in the third OT session and score a game-winning touchdown to take down Caledonia 39-33. It was tied at 21 at the end of regulation, and then both Caledonia and Goodhue scored on their first possession, but neither team was successful on the PAT. So, they went to double overtime, where both teams once again scored quickly, but no PATs were made. Caledonia had the first possession in the third OT and the Wildcats forced a turnover. Goodhue then scored to make it a 39-33. Goodhue moved to 4-1 with the win, while Caledonia dropped to 1-4.
Kasson-Mantorville Holds to 42-41 Win Over Faribault.
The Faribault Falcons missed a field goal as time was expiring as the KoMets held on to the big win 42-41. This one was a thrilling game throughout with many lead changes, but K-M held on. K-M is now 4-1 on the season, while Faribault drops to 3-2.
Houston Wins Double OT Game Over Lyle-Pacelli
The Houston Hurricanes picked up the first win of the season with a 12-6 2OT win over Lyle-Pacelli. It was Homecoming for the Hurricanes as they were able to get the win to move to 1-4 on the season. The loss dropped Lyle-Pacelli to 0-4.
Triton Scores Late to Comeback Over St. Charles 22-20
Triton scored with just 8 seconds left to take down St. Charles 22-20 Friday night. The Cobras were trailing at the half 12-0 but stormed back to get the win over a quality St. Charles team. Triton moved to 4-1 with the win while St. Charles fell to 1-4.
Grand Meadow Knocks Off #10 LeRoy-Ostrander 44-36
The Grand Meadow Superlarks won in a shootout over LeRoy-Ostrander Friday night. The Superlarks moved to 4-1 with the win, while the loss drops the Cardinals to 3-2 in a very competitive Southeast 9-Man district. It will be a fun one to follow through the rest of this season.
#1 Mankato West Takes Down #6 Rochester Mayo 30-6
Mankato West showed why they are the #1 ranked team in the state Friday night with a big 30-6 win over a very good Rochester Mayo team. The Spartans were looking to upset the Scarlets, but the Scarlets were just too much to handle. Mankato West is now 5-0 on the season while the Spartans fell to 4-1.
Fillmore Central's Defense Leads Falcons to 19-0 Win Over Randolph
The Fillmore Central Falcons were able to shut out a high-scoring Randolph team 19-0 Friday night in Harmony. The Falcons got passing touchdowns from Dillon O'Connor and Chase Christianson in the win, while Bryce Coron scored to push the Falcons to 4-1 on the season while Randolph fell to 3-2.
#5 Stewartville Shutouts Red Wing 42-0
Stewartville scored four touchdowns in the first quarter to lead the way as they took down the Wingers Friday night. Stewartville is now 5-0 on the season and has a big matchup with #7 Kasson-Mantorville for their Homecoming game next week. The Wingers fell to 1-4 with the loss.
Rochester Century Picks Up First Win Of Year With 28-20 Win Over Austin
The Century Panthers picked up their first win of the season with a nice win over Austin. The Panthers are now 1-4 and will take on Northfield next week at home. Austin fell to 0-5 and has a battle with Mankato West next week in Mankato.
#1 Blooming Prairie Stays Unbeaten With 42-0 Win Over St. Clair/Loyola
The Awesome Blossoms continued their winning ways in the shutout win. The Blossoms average 44 points per game this season and have allowed an average of 7.6 per game. Blooming Prairie moved to 5-0 with the win while St. Clair/Loyola fell to 3-2. The Blossoms will take on Gibbon-Fairfax-Winthrop next week.
Mankato East Blanks Byron 17-0
Mankato East has continued their winning ways after dropping their opener to Stewartville. The Cougars have now won four straight games and sit at 4-1. Byron drops to 0-5 and takes on Red Wing next week.
#9 Rushford-Peterson Takes Down Cotter 66-12
The Rushford-Peterson Trojans stayed undefeated with a big win over Cotter on Friday night. The Trojans are now 5-0 and take on Randolph next week. The Cotter Ramblers fell to 2-3 on the season and will take on Hayfield next week.
Mabel-Canton Wins Big Over Madelia 45-8
Coming off a big win over Kingsland, the Cougars kept their winning ways going with a nice win over Madelia. The Cougars are now 3-2 on the season while Madelia fell to 0-5. The Cougars host Houston next week for Homecoming week at Mabel-Canton.
#2 Lake City Holds Off Pine Island 27-14
The Lake City Tigers moved to 5-0 with a win over Pine Island on the road Friday night. Lake City will host Zumbrota-Mazeppa next week before finishing their regular season with games at Goodhue and home against #1 Cannon Falls. The Panthers fell to 1-4 and will travel to take on Plainview-Elgin-Millville next week.
Owatonna's Defense Strong In 26-7 Win Over Northfield
The Huskies were able to take down Northfield to move to 3-2 on the season. Owatonna has won back-to-back games and will host Rochester John Marshall next week. Northfield has now dropped two games in a row and sits with a 2-3 record.
Hayfield Wins At Home Against Wabasha-Kellogg 42-14
The Hayfield Vikings picked up their first win of the season with a home win over the Falcons. The Vikings offense was working well in the win as Hayfield is now 1-4 on the season. Wabasha-Kellogg fell to 0-5. The Vikings will take on Cotter next week while the Falcons have a battle with Faribault B.A.
Winona Tops Albert Lea 60-21
The Winona Winhawks were able to secure a 60-21 win over Albert Lea on Friday night. The win pushed Winona to 3-2 on the season and they will take on Faribault next week. Albert Lea fell to 0-5 and battles Mankato East next week.
Faribault B.A Takes Down Kenyon-Wanamingo 18-6
The Cardinals got back on the winning track with a nice 18-6 win over Kenyon-Wanamingo. The Knights fell to 2-3 with the loss while Faribault B.A moved to 4-1 with the win. The Cardinals will take on Wabasha-Kellogg next week on the road while the Knights will host the Fillmore Central Falcons.
Zumbrota-Mazeppa Blanks LaCrescent 20-0
Zumbrota-Mazeppa picked up their first win of the year with a shut-out win over LaCrescent last night. The Cougars moved to 1-4 on the season while LaCrescent fell to 0-5. The Cougars will take on Lake City next week while LaCrescent takes on Cannon Falls.
Games Scheduled For Saturday
Chatfield @ #1 Cannon Falls - 1 p.m. Kickoff
Lanesboro @ Kingsland - 2 p.m. Kickoff
Lewiston-Altura @ Dover-Eyota - 7 p.m. Kickoff
Enjoy This Unique Minnesota Cabin That Sits Just Inches Off The Lake
This incredible
Minnesota
Cabin is available on
Airbnb
, and is truly unique! Sitting just inches off of the lake, you'll get incredible views of northern Minnesota's natural beauty!
'Getaway Shores' is a modern Scandinavian cabin on the shore of Lake Mitawan in Superior National Forest near Isabella, Minnesota. Check out some of the beautiful views, traditional Finnish sauna, and modern cabin below!