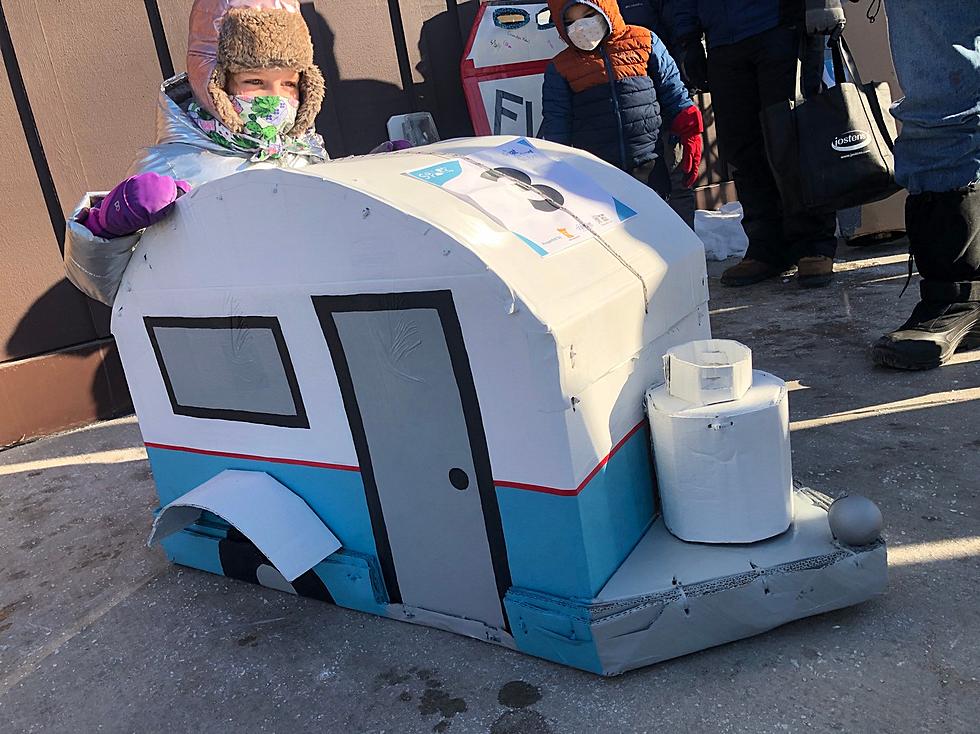 Big Smiles and Red Cheeks at the Rochester Cardboard Sled Races (40 Photos)
PHOTO: Rabe
Smiles, Cheers, Laughter, and the Occasional Tear
SPARK Children's Museum in Rochester hosted the 9th Annual Great Cardboard Sled Race Saturday, January 29th at the Rochester Golf and Country Club and we have the pictures to prove it!
The kids and parents had so much fun with this...from dreaming up the sled to sliding down the hill on their imagination's reality, smiling faces, red cheeks, and laughs o'plenty filled the hillside  James Rabe, event judge, said,
" The creativity was off the charts! I only saw one set of tears, and that was from a toddler that didn't want to stop playing in the snow. However, the toddler's older-by-two-years sister, filled with maturity and a loud voice, managed to save the day."
The 2022 SPARK Cardboard Sled Race at Rochester Golf and Country Club
A day for families to see how awesome their homemade cardboard sleds really are.
Speaking of Sleds...Remember Stewartville's Sledding Mail Carrier?
As always, if you have a comment, complaint, or concern about something I wrote here, please let me know: james.rabe@townsquaremedia.com
Listen On-Demand with the Y105FM app, and on the following podcast platforms: Apple Podcasts | Google Podcasts | Spotify
Check the List for Sledding In and around Rochester MN This Weekend?
We gotchya covered!
Top 10 Sledding Hills Near Rochester, Minnesota
Rochester, Minnesota has a bunch of great sledding spots that are perfect for an afternoon of
winter
enjoyment. If you've been on the hunt for a great hill, check out these 10 spots around Rochester that our listeners say are their #1 pick for a fun afternoon!