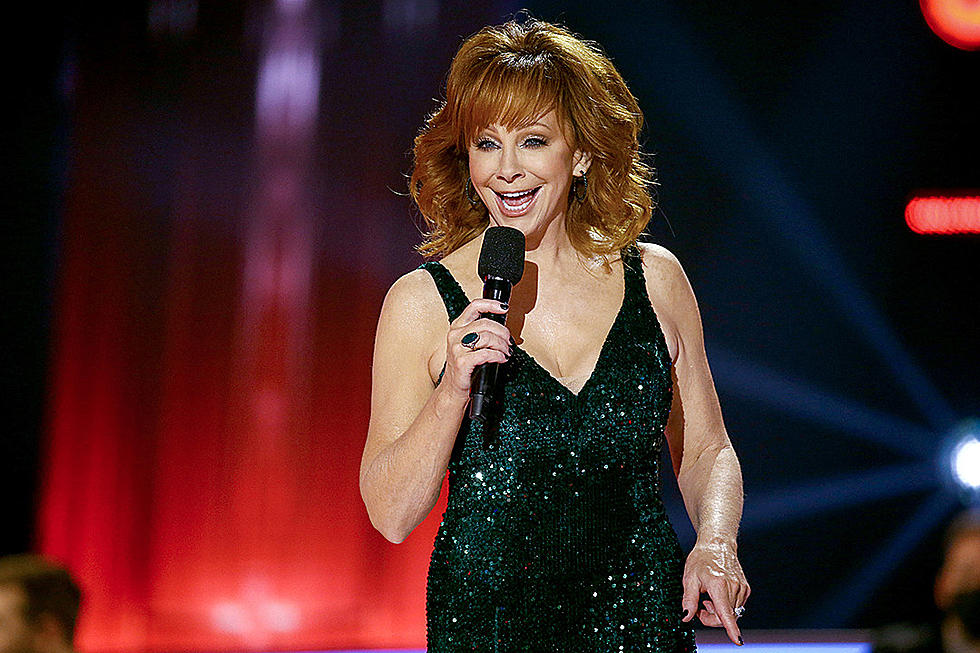 Ranking All 24 of Reba McEntire's No. 1 Songs
Terry Wyatt, Getty Images for CMA
With a multi-decade career and versatile talent to boast of, not many artists can top the accomplishments of country superstar, Reba McEntire. This is due in large part to her storied multimedia entertainment career, which has spanned television, Broadway, film, and even the realm of podcasts. But at her core, the "Fancy" singer is best known as a country hitmaker with a total of 24 career No. 1 singles on Billboard's Hot Country Songs chart.
After being scouted by the great Red Stegall, McEntire signed her first recording contract with Polygram/Mercury Records in 1975. In 1976, the former barrel racer launched into the scene with "I Don't Want to Be a One Night Stand," the first single from her self-titled debut album. However, that song and its numerous follow-ups only achieved nominal commercial success. It wasn't until her 14th single and first No. 1 hit, "Can't Even Get the Blues," that traction started to pick up for the Oklahoma native.
Over her extensive career, McEntire has amassed hits such as the poignant "Somebody Should Leave" and "For My Broken Heart." However, fans may be surprised to learn that two of her most popular songs, "Fancy" and "The Night the Lights Went Out In Georgia," did not reach the top of the charts. The former peaked at No. 8 and the latter at No. 12 on the Billboard Hot Country Songs chart.
Still, the Country Music Hall of Fame and Hollywood Bowl member boasts 16 ACM Awards, six CMA Awards, three Grammy Awards, 15 American Music Awards, nine People's Choice Awards, and a GMA Dove Award, all on top of selling over 56 million albums worldwide. Later this year, McEntire is also slated to extend her brand to the food and beverage business by opening her first-ever restaurant, Reba's Place, in her home state of Oklahoma.
Fresh off the release of her new gospel album My Chains Are Gone and 2021's Revived, Remixed, Revisited, The Boot is looking back on and ranking McEntire's 24 chart-toppers. Find out where your favorites land on this list!
24

"You're The First Time I've Thought About Leaving"

From: 'Unlimited' (1982)

This follow-up single to 1982's "Can't Even Get the Blues" was McEntire's second career No. 1.

23

"I Know How He Feels"

From: 'Reba' (1988)

After its fourteen-week run on the charts, this song became McEntire's eleventh career No. 1 in 1988.

22

"Cathy's Clown"

From: 'Sweet Sixteen' (1989)

In 1989, McEntire put her tender spin on a song written by Don Everly and made famous by The Everly Brothers in 1960. Just like its original rendition, the song reached No. 1 in July 1989.

21

"How Was I To Know"

From: 'What If It's You' (1996)

On this 1996 uptempo cut, McEntire finds herself amazed and proud of how far she's come after an emotionally brutal breakup.

20

"Turn On The Radio"

From: 'All the Women I Am' (2010)

This was the rollicking lead single from McEntire's All The Women I Am and her latest No. 1 song to date.

14

"Love Will Find Its Way To You"

From: 'The Last One to Know' (1987)

Earlier recorded by Lee Greenwood and Marie Osmond, McEntire put her spin on this song for her 1987 album and issued it as its second single.

18

"One Promise Too Late"

From: 'What Am I Gonna Do About You' (1986)

Co-written by songwriting extraordinaire Don Schlitz (Kenny Rogers, Randy Travis, Keith Whitley), this song finds McEntire reflecting on a 'right guy, wrong time' kind of moment. It was the final single from her What Am I Gonna Do About You record.

17

"Somebody"

From: 'Room to Breathe' (2003)

Originally recorded by Mark Wills for an album in 2001, Reba went on to record it two years later and ended up having her first No. 1 single since her 1998 chart-topper with Brooks & Dunn.

16

"What Am I Gonna Do About You"

From: 'What Am I Gonna Do About You' (1986)

This slow-burning ballad finds McEntire ruminating on yet another personal heartbreak, like many of her songs. It was the title track and lead single off her eleventh studio record.

15

"New Fool At An Old Game"

From: 'Reba' (1988)

Originally recorded by Canadian country artist Michelle Wright, McEntire later cut it for her self-titled 1988 record and issued it as its third and final single. The song clinched the No. 1 spot in 1989.

14

"The Last One To Know"

From: 'The Last One to Know' (1987)

In this 1987 track, McEntire reflects on the feelings of loneliness and desolation that follow a breakup. It was her ninth No. 1 single.

13

"You Lie"

From: 'Rumor Has It' (1990)

Serving as the lead single off her acclaimed Rumor Has It record, this one finds McEntire playing a heartbroken wife pondering on the bleak future with her lying, emotionally-distant husband.

12

"The Heart Is A Lonely Hunter"

From: 'Read My Mind' (1994)

Over bright electric guitar lines, McEntire sings of a personified heart "with only one desire - to find some lasting comfort in the arms of a lover's fire." Written by Ed Hill, Mark D. Sanders, and Kim Williams, this single offers a unique perspective on love that only happens in this beloved storytelling genre of country music.

11

"If You See Him/If You See Her" (with Brooks & Dunn)

From: 'If You See Him' (1998)

This two-week No. 1 duet served as the title track for McEntire's If You See Him and Brooks & Dunn's If You See Her albums, both of which were released in 1998.

10

"How Blue"

From: 'My Kind of Country' (1984)

With fiddle licks front and center, this vibrant mid-tempo tune was one of McEntire's earliest rootsy offerings. Fortunately, her gamble into a more organic artistic direction paid off as shot to the No. 1 spot in 1985.

9

"For My Broken Heart"

From: 'For My Broken Heart' (1991)

This remains of McEntire's most gut-wrenching songs of her career. While it wasn't written about the 1991 airplane crash that tragically killed her touring band, it was the first single she courageously released after the tragedy.

8

"Consider Me Gone"

From: 'Keep On Loving You' (2009)

This is Reba's longest-standing chart-topper, holding steady at No. 1 for four weeks on Billboard's Hot Country Songs.

7

"Little Rock"

From: 'Whoever's in New England' (1986)

It's tough to not have one bopping along to McEntire's 1986 single. In essence, this jubilant tune finds a woman coming to her senses and realizing that being with someone she truly loves outweighs marrying a wealthy man for his money.

6

"Can't Even Get The Blues"

From: 'Unlimited' (1982)

In many ways, this euphoric, toe-tappin' number was a breakthrough hit for McEntire. It was her first-ever chart-topping single and the first of 24 No.1's.

5

"The Heart Won't Lie" (with Vince Gill)

From: 'It's Your Call' (1992)

This soaring ballad was the singers' second time collaborating on a duet, with the first being Vince Gill's 1989 song, "Oklahoma Swing." It was also promoted with an unforgettable mini movie-like music video, where McEntire played a U.S. Navy Officer candidate, and Gill a Marine Corps Drill Instructor.

4

"Somebody Should Leave"

From: 'My Kind of Country' (1984)

In a 2011 GAC Master Series interview, the great Jean Shepard shared that listening to McEntire's Harlan Howard-penned song brought her to tears. "I was driving down Gallatin Road, I tuned up and just cried like a baby," she said. "It's wonderful."

3

"Does He Love You" (with Linda Davis)

From: 'Greatest Hits Volume Two' (1993)

This power ballad by McEntire and Linda Davis has truly proven to be an enduring hit. Since its release decades ago, country stars like Carrie Underwood and Carly Pearce have covered it at their live shows. Most recently, McEntire enlisted Dolly Parton for a stripped-down duet for her Revived, Remixed, Revisited collection.

2

"Is There Life Out There"

From: 'For My Broken Heart' (1991)

This two-week No. 1 female-empowering anthem continues to be a fan favorite for McEntire. Last year, she re-recorded a fresh version for her Revived, Remixed, Revisited box set. The hopeful song is an ode to selfless women who put their families first and serves as a reminder that it is never too late to start chasing their dreams.

1

"Whoever's In New England"

From: 'Whoever's In New England' (1986)

This stunning plaintive ballad was coupled with McEntire's monumental and first-ever music video, which earned her an ACM Award for Video of the Year. The song also nabbed a Grammy for Best Female Country Vocal Performance in 1987. In 2020, Cody Johnson even released an emotional, stripped-down rendition of this classic.