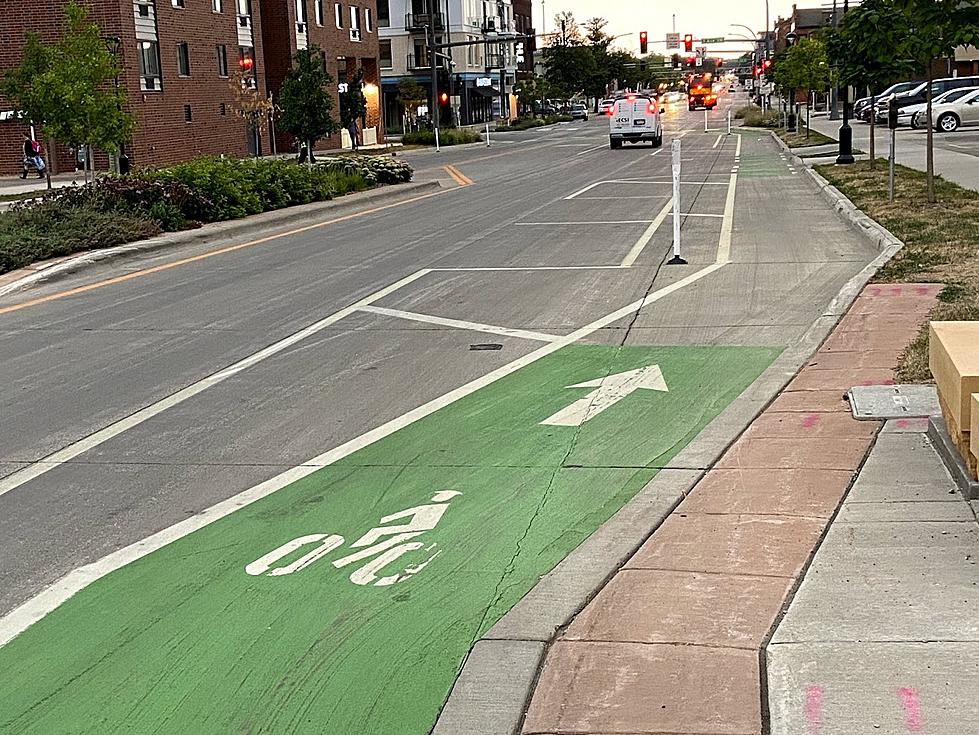 New Report Plans For Future Bike-Pedestrian Projects in Rochester
Bike lane on 4th Street Southwest (CSJ/TSM-Rochester)
Rochester, MN (KROC-AM News) - The Rochester City Council will hold a public hearing this evening concerning future plans for additional bike lanes and pedestrian-friendly features on city streets.
The Active Transportation Plan is designed to replace the Rochester Area Bicycle Master Plan that was adopted in 2012. According to the document's executive summary, the report "examines the use of human-powered modes of transportation (primarily walking and biking), and develops recommendations for improvements through future investments."
The vision statement used in developing the plan is, "Active transportation provides equitable freedom of movement. Walking and bicycling in the City of Rochester are primary modes of transportation that are safe, convenient, and enjoyable."
The plan developed a vision for what is called "An All Ages and Capabilities" bicycle network that would come within 1/8 of a mile of major destinations in the city. Using a prioritization method and public input, the plan identifies 10 potential near-term projects with an estimated price tag o about $20 million that were selected for further analysis by city staff.
The report's recommendations also include hiring a dedicated bike and pedestrian planner and requiring pedestrian facilities as part of the development approval process. It also lists providing amenities for bicycle commuters and options for downtown bike repair, along with proactively identifying grants that would support bike and pedestrian projects.
18 Things People in Minnesota, Iowa, Illinois, and Wisconsin Hate About Winter
Sledding on a perfect carpet of snow that just fell is a gorgeous sight in the midwest. That's the fun part of winter. With the snow though comes with a whole lot of ugly! If you've never experienced a midwest winter, here's a glimpse of what people in Minnesota, Iowa, Illinois, and Wisconsin hate the most about the coldest season of the year.