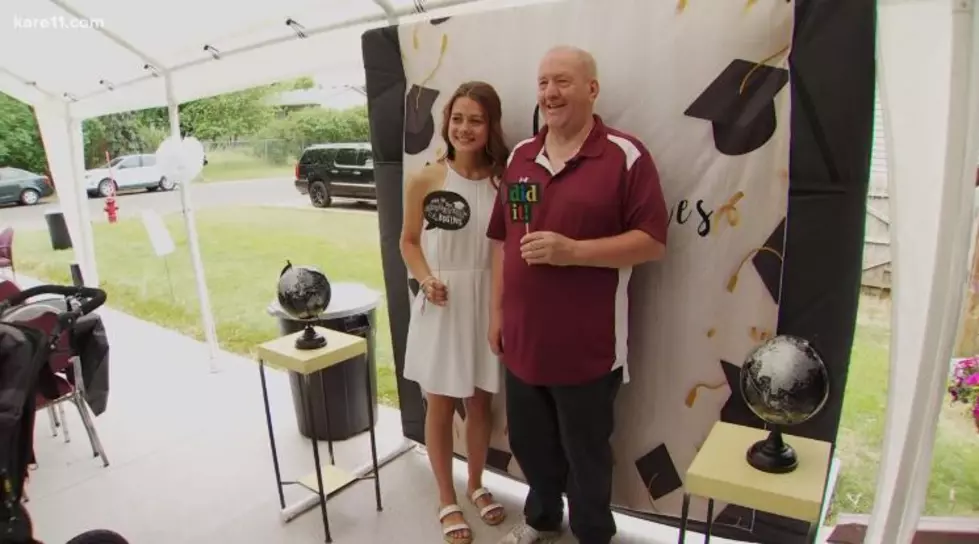 Minnesota Man Has Attended 1,500 High School Grad Parties
Credit: Boyd Huppert, KARE 11
An Anoka man has attended 1,500 high school grad parties since he started keeping track 16 years ago. His name is Jeff Nelson and he's Anoka High School's superfan.
Jeff graduated from Anoka High School in 1976 and moved on to be the cheerleader at all home sporting events, theater performances, and concerts. As he was speaking with Boyd Huppert of KARE 11 he started listing off the sporting events he goes to: "Softball, baseball, boys and girls lacrosse, tennis, track." Oh, and that's only the spring sports he attends.
All of the students know Jeff. Kylie Rybicki told Boyd, "'Everyone knows him, everybody knows superfan.'" Which is why he gets invited to so many grad parties! Abby Johnson said, "'Do you even have a grad party if he's not there, is it officially a grad party? I don't think so.'"
Jeff told Boyd, "'The most I've ever done is 29 in one day. I started at 9 o'clock in the morning, got to my last one at 10 o'clock at night, and I put 186 miles on my car.'"
Jeff never married and doesn't have any kids, but the students he cheers on at every home game, performance, and concert are like his children. He works overnights as a security guard so he has time for his "kids" during the day.
He started keeping track of the number of grad parties he goes to 16 years ago and has since handed out a trophy for the 1,000 grad party he attended and this year the 1,500 grad party.
Check out the amazing story below:

Hang out with Carly Ross on The Mighty 920 KDHL weekdays 1-5pm!