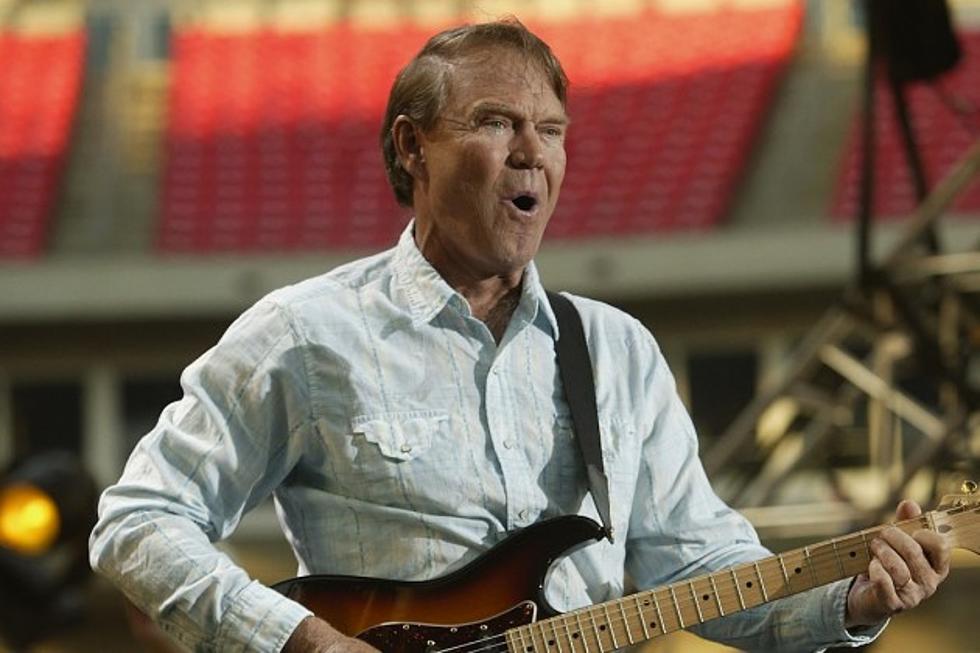 53 Years Ago: Glen Campbell Gets First Gold Single With 'Wichita Lineman'
Rusty Russell, Getty Images
Fifty-three years ago today (Jan. 22, 1969), Glen Campbell struck gold for the first time. It was on that date that the singer earned the first gold single of his career, signifying sales of 500,000 copies, with "Wichita Lineman."
"Wichita Lineman," which was the title track of Campbell's 12th studio album, was written by Jimmy Webb. The tunesmith got the inspiration for the tune while driving through Washita County, Okla., when he saw a lone telephone lineman working on the top of a telephone pole.
"I'm a songwriter, and I can write about anything I want to," Webb says of his inspiration for the song. "I feel that you should know something about what you're doing, and you should have an image, and I have a very specific image of a guy I saw working up on the wires out in the Oklahoma panhandle one time with a telephone in his hand talking to somebody. And this exquisite aesthetic balance of all these telephone poles just decreasing in size as they got further and further away from the viewer -- that being me -- and as I passed him, he began to diminish in size.
"This song came about, really, from wondering what that was like, what it would be like to be working up on a telephone pole, and what would you be talking about?" Webb continues. "Was he talking to his girlfriend? Probably just doing one of those checks where they called up and said, 'Mile marker 46,' you know. 'Everything's working so far.'"
Webb often wrote in the studio while Campbell was recording. As soon as the songwriter played part of "Wichita Lineman" for Campbell, the singer knew he wanted to record the tune.
"I implored him to finish it and even offered to help," Campbell says. "But he told me to go and play my guitar and leave the writing to him."
"Wichita Lineman," which was nominated for an ACM for Single of the Year in 1968, has been included on several of Campbell's compilation albums, including Glen Campbell's Greatest Hits in 1971, The Best of Glen Campbell in 1976, 1987's The Very Best of Glen Campbell and The Legacy from 2003. The song was also included on one of Campbell's last albums, 2013's See You There, which was released as the legendary singer's battle with Alzheimer's disease caused him to retire from the music business.
This story was originally written by Gayle Thompson, and revised by Annie Zaleski.
PICTURES: Glen Campbell Through the Years