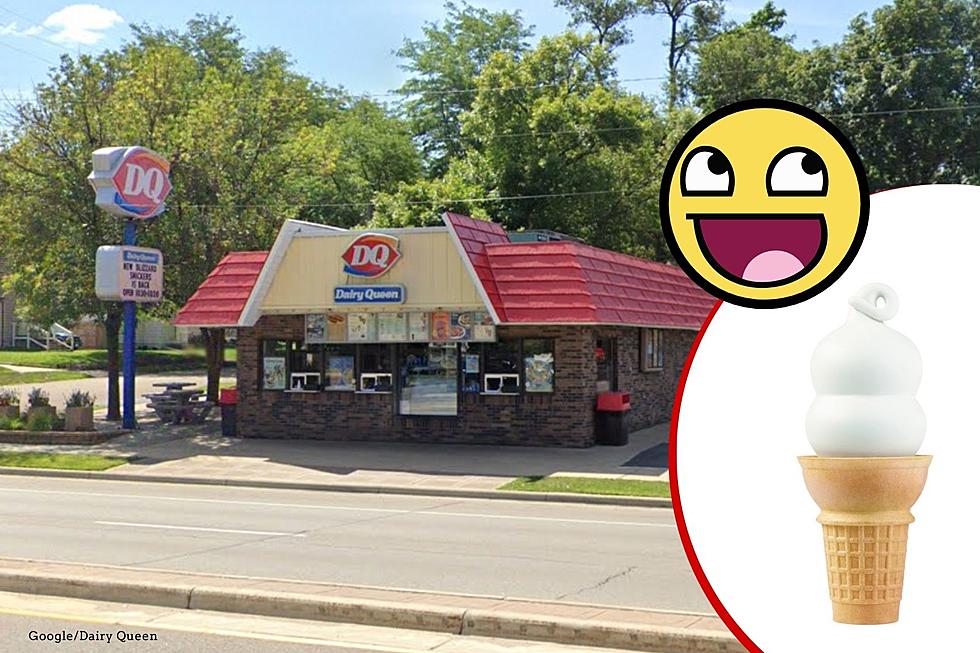 Popular Free Cone Day At Minnesota Dairy Queen's Is Back In 2022
Google/Dairy Queen
How do you know it is Spring in Minnesota, Iowa, Wisconsin, and Illinois?  It's not seeing robins or seeing the snow finally melt.  It is free cone day at Dairy Queen!  Lucky for all of us, Spring is just around the corner because free cone day was just announced.
Free Cone Day at Dairy Queen Is Back On for 2022!
Mask mandates have gone away. Kids are back in school. Now, Free Cone Day is back too!  I feel like I need to knock on wood somewhere before I write this but...it almost feels like "normal" may actually happen again.
If you love ice cream, get ready because I just saw the announcement from Dairy Queen that they are bringing free cone day back and it is happening March 21st!
With the DQ® 2022 Free Cone Day, a free small vanilla cone is the perfect way to start spring. Come join us on March 21, 2022.

Whether your technique is the lick, the lap, the sculpt, the bite, or something uniquely your own, all it takes is a DQ® cone in your hand to bring out your special cone-eating artistry. And with DQ® Free Cone Day, you can get in on a tradition fit for families of all sizes, kids of all ages, and fans of all things DQ®. Cold, creamy, delicious and – best of all – FREE!

Recall memories of days past, make memories for the days ahead — and it's free at your local DQ® store. Happy Tastes Good.™ - DairyQueen.com
What do you get for free on free cone day?
According to the Dairy Queen website, you can get a free small vanilla cone on March 21st, 2022.  This is at participating non-mall Dairy Queen locations and it is limited to one per person and while supplies last.  You will also need to actually go to the Dairy Queen to get this freebie because this is not valid on mobile orders or delivery.  Before you hop in a car though to get a free cone on the 21st, you will want to check with your favorite store to see if they are participating.
When are the Dairy Queen's in Rochester, Minnesota opening?
I'm going to guess that they are going to open by the 21st but, I honestly haven't heard.  The only place that I know of so far that has already opened for Spring is the Dairy Queen in Chatfield.  I got a note that they opened up on March 15th.
If you happen to see a DQ open or know when they will start serving up Blizzards and their tasty, frozen treats, let me know over on my Facebook page - Jessica On The Radio.  I'll share the news so everyone can know too.
Do you know of another freebie happening in Southeast Minnesota?  Let me know!  Send me a message to my Facebook page (Jessica On The Radio) or DM me on Instagram.
Check out these spots in Rochester for an amazing dessert!
If you are super thrilled about free cone day at Dairy Queen, you'll probably love this bit of news also.  Rochester has quite a few spots with amazing desserts!  Look below and get ready for a foodie tour of the best sweet treats.
List of the Best Desserts in Rochester, Minnesota
WARNING: you may want to throw a bib on or have a Kleenex ready to catch the drool because some of these desserts sound magical.