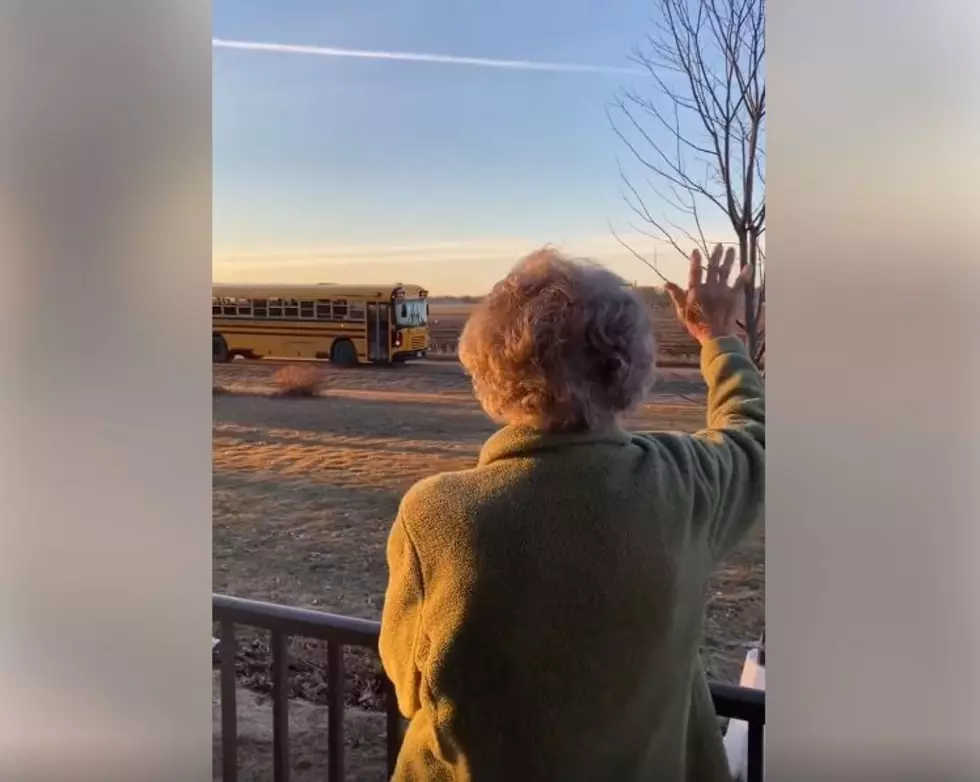 Elderly Iowa Woman Who Waves at School Bus Gets Sweet Surprise [WATCH]
Judy Zimmerman via Facebook
An elderly Iowa woman, who waves at students on a passing school bus every weekday, just got the sweetest surprise for her birthday.
KCCI reports that Bonnie Linder of Hartley, Iowa is the 93-year-old woman who steps out on her front porch every day during the week just so that she can wave to all of the kids in the school bus that passes by her house. This Sunday just so happens to be Linder's 93rd birthday, so the students and bus driver decided to make it special for her.
Friday morning Linder went out on her front porch, as she does every school day, to give her daily wave when the bus slowed down in front of her house and all of the kids yelled "Happy Birthday!" out of the windows. When the bus came to a halt, the door opened and the bus driver wished her a happy birthday as well.
Linder's daughter Judy Zimmerman shared video of the moment on Facebook, saying "it warms my heart to see this simple, yet POWERFUL Act of Kindness! As I visit from Texas, know that there is and always will be a sense of LOVE for the small communities in Iowa where GOOD still exists and JOY is found!". See Linder's reaction in the video below.
https://www.facebook.com/groups/581471105267286/permalink/2934308763316830/
It was such a sweet moment, that surely Linder will cherish forever. Happy birthday, Bonnie!