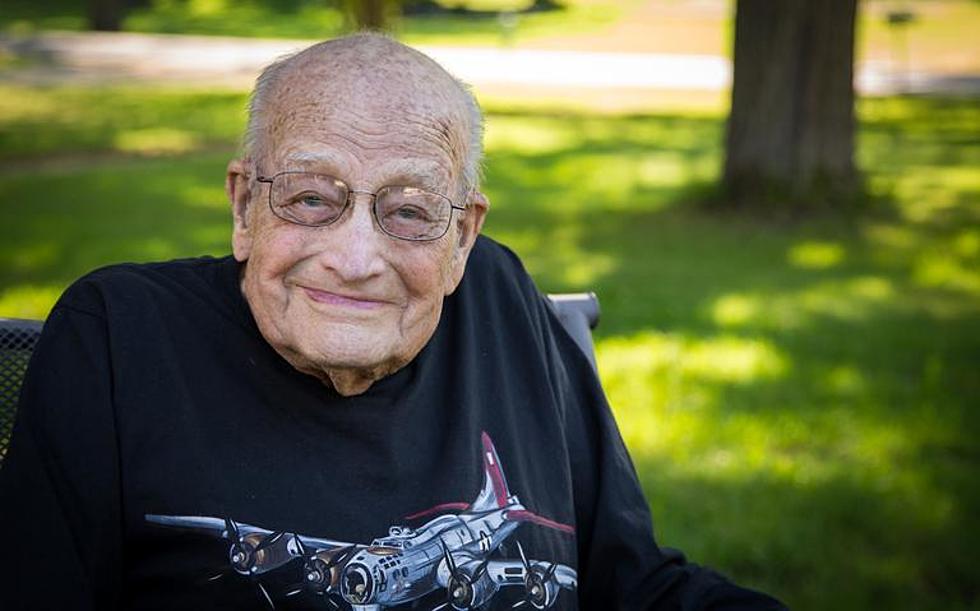 Southeast Minnesota WW II Veteran to Be Awarded Six Medals on His 100th Birthday
Joyce Johnson (courtesy of Richard Krom)
Rochester, MN (KROC AM News) - A special event will be held today (Tuesday) -  an event that should have taken place a long time ago.
A southeast Minnesota WW 2 air soldier will receive six military medals he earned while serving as a bomber pilot in Europe 77 years ago.
And the special event is happening on a special day for Joyce Johnson. The Racine man is also celebrating his 100th birthday today.
The event was organized and sponsored by the Veterans and Emergency Services Museum of Rochester.
Its president is Richard Krom of Rochester, who spent hours researching Johnson's military history and acquiring the medals. Krom's search effort received its biggest boost when Johnson's daughter found her father's military discharge record at his home.  It listed the medals he had been awarded.
Krom says a fire had destroyed Johnson's Army files that had been in storage at a federal government building.
Krom says the next challenge came when he was told it could take as long as a few years before the medals could be processed and sent to Johnson. Because of Johnson's age, Krom didn't want to wait and purchased them from the same company that produces them for the military branches. One of those who helped him along the way was Rochester Fire Chief Eric Kerska, who is also a retired Minnesota National Guard colonel.
Krom will help emcee the event at Rochester's Soldiers Field Veterans Memorial.
The event is scheduled to begin at 5:00 pm and it is open to the public.
News update: Dooley's Pub in Rochester Sold
Popular Child Stars From Every Year
Below,
Stacker
sifted through movie databases, film histories, celebrity biographies and digital archives to compile this list of popular pint-sized actors from 1919 through 2021.