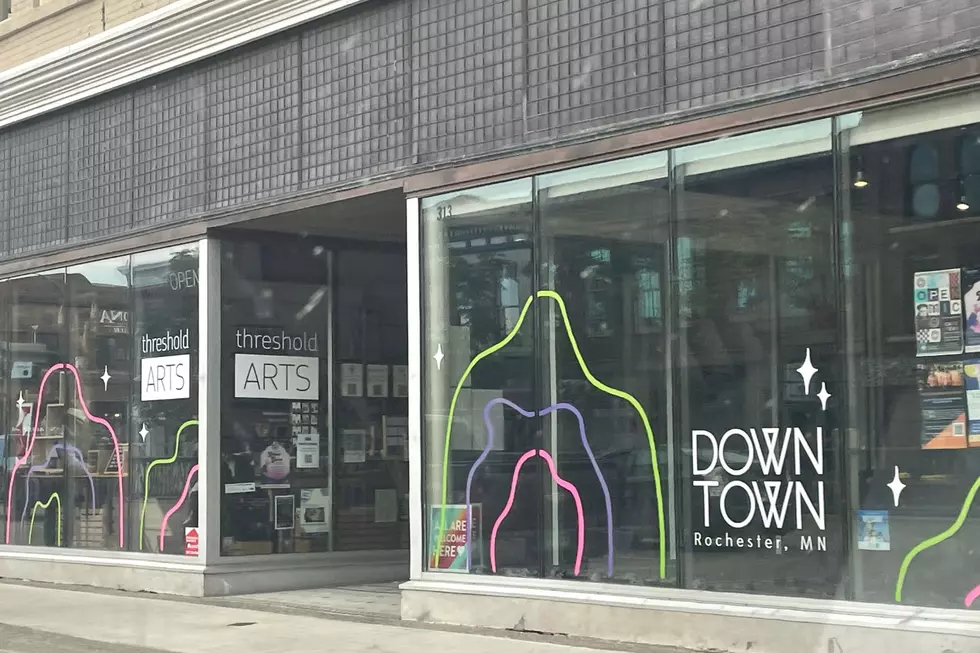 We Now Know Why Some Windows in Rochester Are Being Painted
Jessica Williams
I love getting questions sent to me via Facebook on my page - Jessica On The Radio - or via e-mail at jessica.williams@townsquaremedia.com.  Lately, I've been horrible at returning those because I am currently living out the movie "The Money Pit" and "Contagion" all at the same time.  #ItHasBeenFun  But I saw a question from someone in Rochester, Minnesota on my Facebook page that I knew I needed to answer right away.
"Hey, Jessica, I know your studio is downtown.  I was driving around last night and saw a bunch of colored lines all over a few of the windows in downtown Rochester.  Do you know why they are painted like that?" - Lisa in Rochester
Why Are the Windows in Downtown Rochester, Minnesota Painted Different Colors Right Now?
I walked around downtown Rochester to try to see exactly what Lisa was referencing and if you haven't been down there lately, I grabbed a few photos so you can see what she is talking about.
A bunch of the businesses along Broadway have purple, bright yellow, bright pink and white stars painted on them.
The painted fun starts around the Limb Lab and extends quite a few blocks north.
The Festive, Painted Windows in Rochester Are For Roller Disco!
This weekend, there is a massive party in Rochester called Roller Disco.  The painted windows are just a glimpse of the fun that is being created for anyone that would love to have a little roller skating party this weekend.  Ok, "little" might not be the best word since over 11,000 people showed up last year.  But it will be fun, skates are free to rent, and there are tons of vendors that will be there with food too.  And yes, a DJ and a disco ball will be showing up too.  The event starts on Friday and is full of activities for Saturday too.  Learn more about the Roller Disco event here.
Rochester On Tap is the next big party in Minnesota
If you love beer, the next party you should be at is Rochester On Tap! It's just a few weeks away on October 15th in Rochester at the Mayo Civic Center and you'll have a chance to sample over 90 different beers. I'm not sure if Luke Bryan's beer will be there but it is on my list of things to do today to check. If you are looking to snap tickets, there are VIP opportunities and some special deals if you buy early at Seize The Deal.
Top 8 Most Overrated Attractions in Minnesota
Minnesota is known for a lot of amazing attractions! Of course, we also have 10,000+ lakes that we love to boast about. However, we have a few places that seem to be hyped a bit more than some think is necessary. In fact, there are 8 attractions in Minnesota that people say are the MOST overrated in the entire state.