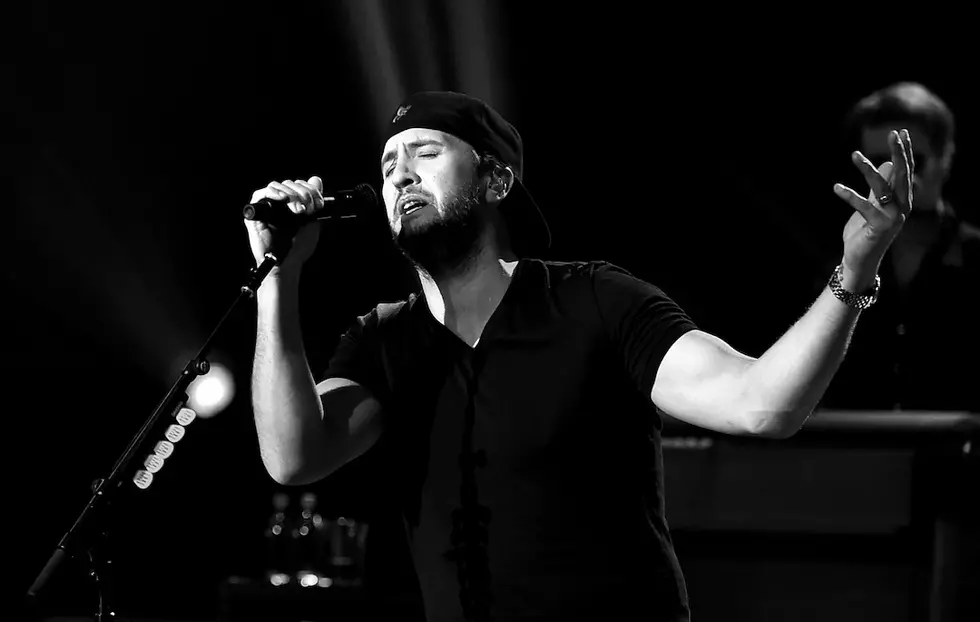 Watch New Music Videos From Luke Bryan, Brett Young and More Country Artists
Kevin Winter, Getty Images
Between a poignant message of hope for today's tumultuous world, a carefree homage to a road dog who died too young, an ocean-side romance and a stripped-down studio session, there's something for everyone in this week's roundup of new country music videos. Which one's your favorite?
Luke Bryan, "Most People Are Good"
In a world where the headlines are heartbreaking, and tragedy is an everyday occurrence, Luke Bryan's "Most People Are Good' couldn't come at a better time. Poignant lyrics like "I believe if you just go by the nightly news / Your faith in all mankind would be the first thing you lose" acknowledge that there is pain while words like "I believe you love who you love / Ain't nothing you should ever be ashamed of / I believe this world ain't half as bad as it looks / I believe most people are good" place credence in the goodness of humanity and hang their hat on optimism.
In the music video, Bryan stands on a stage. Images of people from all walks of life, of varying ages and races, are projected behind him. You may not find a news story about a mama kissing her new baby, or two little boys who are thick as thieves, but they're out there, living life and doing good things. "Most People Are Good" is the second single from his sixth album, What Makes You Country. It was written by David Frasier, Ed Hill and Josh Kear. -- CV
Brett Young, "Mercy"
Brett Young headed out of Nashville for his new "Mercy" music video, which was filmed in Encino, Cali. and at the White Sands National Monument in New Mexico. The filming took two days and was directed by Seth Kupersmith. Of course, because of the location, the clip is breathtaking, but the emotional intensity of the song's story is also passionately portrayed by Young and a beautiful brunette.
"Mercy" is one of my favorite songs on the record, so it's been really cool to see it come to life," Young says in a press release. "My buddy Seth has always had such a creative and artistic brain -- I got chills when I read his idea for this video for the first time. I'm really excited to share this one with fans!" -- CV
Willie Nelson, "Me and You"
Willie Nelson has shared a new music video that he made in collaboration with his longtime friend / producer / collaborator Buddy Cannon, who tells Nelson at the beginning of the recording session, "You've got a lot of singing to do," before the legend gets behind the microphone. The video captures the recording process in grainy black and white, interspersed with silent film-style images of the lyrics, as Nelson sings about being the last ones standing in an ever changing world. "Me and You" comes off of Nelson's album Last Man Standing, due out on April 27. -- LS
Brent Cobb, "King of Alabama"
Brent Cobb offers up an ode to Wayne Mills in the video for his latest song "King of Alabama," off his upcoming album Providence Canyon. Mills was a mentor and friend of Cobb's before his untimely death in 2013, and the Wayne Mills Band were a popular country band in the South whose shows featured openers like Blake Shelton and Dierks Bentley before they became big stars. Mills was shot and killed at a bar in Nashville by the bar owner. Cobb's video is an animated walk through Mills' life, from his early years playing for Alabama's Crimson Tide to his time on the road with his band and his carefree movement through life. -- LS
The Band of Heathens, "Trouble Came Early"
Band of Heathens' "Trouble Came Early" music video features the band's Southern rock sound set to a backdrop of black-and-white concert footage of the band as they play multiple venues -- a nod to their busy tour schedule around the country. The five-piece band released "Trouble Came Early" on their 2017 album Duende. -- LS