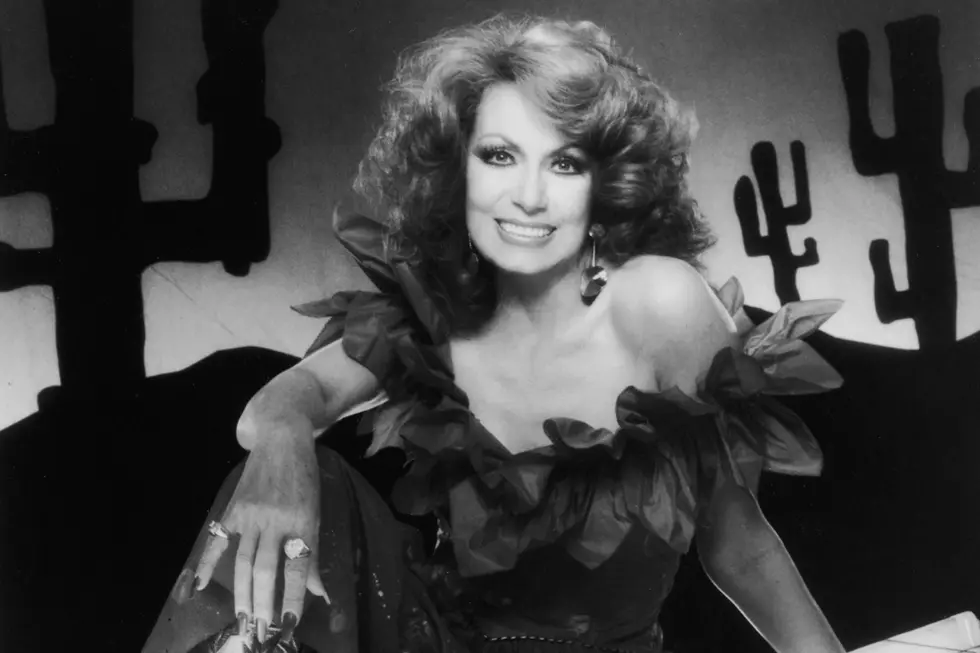 Hulton Archive / Getty Images
Starting her career in the early 1960s, Dottie West stormed onto the country music scene and made history. The first woman to win a Grammy Awards trophy, with "Here Comes My Baby," West went on to record some of the genre's most popular duets of the decade alongside artists like Jim Reeves.
In the late 1970s, West saw a resurgence in her career thanks to smash-hit duets with Kenny Rogers, and she remained a popular performer until her tragic death in 1991. Take a walk back through country music history with these 10 Dottie West tracks that have stood the test of time:
10

"It's High Time"

From 'High Times' (1981)

Before Kacey Musgraves released her own song titled "High Time" in 2015, West's iconic song about coming back from a breakup was an anthem for jilted women. The title track of her 1981 album, "It's High Time" would eventually be West's final Top 20 hit.

9

"Let Love Come Lookin' for You"

From 'Just Dottie' (1984)

There's no denying the appeal of the electric organ, West's pointed vocals and the eternal message of "Let Love Come Lookin' for You." It's a fitting farewell from West, who included the song on the final record of her career.

8

"Angel on Paper"

Single (1960)

One of West's first singles, "Angel on Paper" wasn't a chart-topper, but it endures as a fittingly '60s country classic.

7

"What Are We Doin' in Love?"

From 'Wild West' (1981)

In a performance released on a 2016 live album, Dottie West: Ain't Nothin' Like a Woman Live, West tells the story of "What Are We Doin' in Love." She says that she was recording the song when Rogers just happened to show up at the studio and asked to sing on the record. West describes this duet as her favorite of many that she recorded with Rogers in the 1970s.

6

"Let Me Off at the Corner"

Single (1963)

West's first Top 40 hit, this 1963 tune launched her decades-long career, and established her as one of Nashville's most promising new voices in the early '60s.

5

"Ain't Nothin Like a Woman"

From 'Just Dottie' (1984)

This arguably bawdy tune about hooking up with a new woman to get over the one who broke your heart is West at her 1980s best: powerful and pulling no punches.

4

"Paper Mansions"

From 'With All My Heart and Soul' (1967)

After teaming up with Nashville icon Chet Atkins at RCA, West's "Paper Mansions" became yet another Top 10 hit in 1967. Decades after its initial success, the song about empty promises found a new audience in 1996, when RCA released it on a compilation called Promises Promises after years of the song being difficult to find on any West album.

3

"Every Time Two Fools Collide"

From 'Every Time Two Fools Collide' (1978)

Released on West's 1978 album of duets with Kenny Rogers, "Every Time Two Fools Collide" is perhaps the most iconic of the duo's collaborations. The No. 1 hit came at the peak of Rogers' success, and helped revitalize West's career, giving it a second wind that would continue until hear death in 1991.

2

"A Lesson in Leavin'"

From 'Special Delivery' (1979)

Released in 1980, West's No. 1 hit "A Lesson in Leavin'" sounds precisely like a country-pop hit of its time. The instrumentation is delightfully vintage and endlessly catchy. "A Lesson in Leavin'" kicked off West's '80s comeback, and in 1999, Jo Dee Messina released her own version of the song, which peaked at No. 2 on the Billboard charts.

1

"Here Comes My Baby"

From 'Here Comes My Baby' (1965)

West was the first female country artist ever to win a trophy at the Grammy Awards, and it was with this enduring song, for Best Female Country Vocal Performance. A Top 10 hit co-written by West, "Here Comes My Baby" is an exemplary example of the 1960s country ballad and has since been covered by hundreds of artists, including Perry Como and Dean Martin.