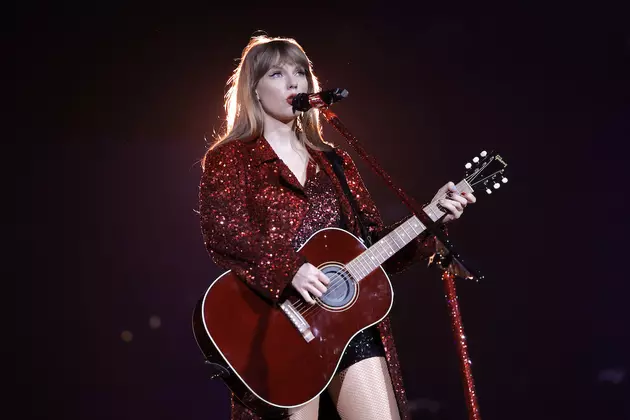 Top 10 Country Taylor Swift Lyrics
Kevin Winter, Getty Images
If there's one truth in this world, it's that Taylor Swift was born to write songs.
Fans know her story of songwriting well: She was bullied at school and came home every day to find solace in the craft she's now known for worldwide. From an early age, poignant songs like "Tim McGraw" showed off her remarkable lyricism and melodic talent, and her third single "Our Song" made Swift the youngest person ever to solely write and perform a No. 1 Hot Country Songs hit.
Below, The Boot rounds up our picks for the Top 10 Taylor Swift Lyrics, which range across her discography, from 2006's eponymous album to 2020's Evermore.
10

"Last Kiss"

From: 'Speak Now'

Key Lyrics: "Because I love your handshake, meeting my father / I love how you walk with your hands in your pockets / How you kissed me when I was in the middle of saying something / There's not a day I don't miss those rude interruptions"

When you're in love, you discover idiosyncrasies, habits and traits about the other person that make him or her special. In "Last Kiss," Swift describes the sweet things she loved about her significant other, such as his handshake, the way he walked and his unexpected (but cherished) kisses. The song's lyrics vacillate between good memories and deep heartache, combining into a beautiful, touching and memorable song.

9

"Out of the Woods"

From: '1989'

Key Lyrics: "Remember when you hit the brakes too soon? / Twenty stitches in a hospital room / When you started crying / Baby, I did too / But when the sun came up / I was looking at you"

"Out of the Woods" was co-written by Swift with fun. member Jack Antonoff, and she calls on real-life experience for the song. It encompasses a certain fragility, a frantic scramble for understanding and the fear that underlies many crumbling relationships. The lyrics are telling and mysterious all at once, with "Remember when you hit the brakes too soon?" drawing much speculation, while "Are we out of the woods yet?" is both figurative and literal. There aren't many choruses that can stand alone as one line repeated over and over again, but Swift's masterminded lyricism wins again.

8

Key Lyrics: "I've been spending the last eight months / Thinking all love ever does is break and burn and end / But on a Wednesday, in a cafe, I watched it begin again"

"Begin Again" is full of hope and expectation after a tragic experience in love -- a rainbow after the storm, so to speak. Nominated for Best Country Song at the Grammys, it's pensive and sweet, moody and reflective, reminding listeners of that tender and vulnerable first date after a bad breakup. There's possibility on the horizon, and "Begin Again" encapsulates those feelings.

7

"Love Story"

From: 'Fearless'

Key Lyrics: "Romeo save me, they try to tell me how to feel / This love is difficult, but it's real / Don't be afraid, we'll make it out of this mess / It's a love story, baby just say yes"

"Love Story" is one of Swift's most well-known hits; it's the second best-selling country single of all time. The lyrics paint a picture of forbidden love, and teens around the world can relate to the narrator that yearn for Romeo, despite what anyone -- including her parents -- think. Swift was a teen when she wrote the tune, but the skillful lyrics sound well beyond her years.

6

"All Too Well"

From: 'Red'

Key Lyrics: "Hey, you call me up again just to break me like a promise / So casually cruel in the name of being honest / I'm a crumpled-up piece of paper lying here / 'Cause I remember it all, all, all ... too well"

"All Too Well" was one of the most lyrically vulnerable songs on Swift's 2012 record, Red. Every line in the track paints an image; from "dancing around the kitchen in the refrigerator light" to "singing in the car getting lost Upstate," the songstress shows exactly why she's received seven Grammys, has millions upon millions of fans and is at the top of the music world. Her songs create pictures, tell stories and evoke feelings that are relatable worldwide.

5

"Our Song"

From: 'Taylor Swift'

Key Lyrics: "Our song is the slamming screen door / Sneakin' out late, tapping on your window / When we're on the phone and you talk real slow / 'cause it's late and your mama don't know"

It's hard to believe that this 100-percent catchy number was written by Swift when she was a mere freshman in high school. It's also remarkable that she wrote it in approximately 20 minutes. She penned it for her school's talent show, about a boyfriend she didn't have a special song with, and it was a success with her classmates and the radio, certified triple platinum by the RIAA. The bouncy rhythm is a perfect backdrop for her descriptive and visual lyrics. Listeners can picture every line, from the "slamming screen door" to "riding shotgun with [your] hair undone."

4

"Blank Space"

From: '1989'

Key Lyrics: "Screaming, crying, perfect storms / I can make all the tables turn / Rose garden filled with thorns / Keep you second guessing like / "Oh my God, who is she?" / I get drunk on jealousy / But you'll come back each time you leave / 'Cause, darling, I'm a nightmare dressed like a daydream"

The lyrics of "Blank Space" show just how intelligent Swift absolutely is. She pokes fun at the media's portrayal of her "serial dater" reputation, depicting herself in the song (and music video) as a crazy, unstable girlfriend who gets "drunk on jealousy" and changes herself for every guy. It shows that Swift is as self-aware as they come, but also doesn't take herself too seriously, layering the media's gossip about her into one highly entertaining song.

3

"You Belong With Me"

From: 'Fearless'

Key Lyrics: "But she wears short skirts / I wear t-shirts / She's cheer captain / And I'm on the bleachers / Dreaming about the day when you wake up and find / That what you're looking for has been here the whole time"

All the band geeks, misfits, loners, glasses-wearers and more stood up and cheered when Swift's "You Belong With Me" was released and then went on to be certified six-times platinum. The lyrics are extremely relatable, contrasting a girl next door and popular girl -- and the nerdy girl is pining away for a guy she can't have. Who can't relate to that?

2

"Fifteen"

From: 'Fearless'

Key Lyrics: "When you're 15, and your first kiss makes your head spin 'round / But in your life, you'll do greater things than dating the boy on the football team / But I didn't know it at 15"

From Swift's sophomore album, Fearless, this song is one that pretty much any young person can relate to. It captures the excitement and nerves of the first day of high school and cautions against falling in love so easily. An autobiographical song that features Swift and her best friend Abigail, "Fifteen" gives a real, vulnerable and utterly personal look at her life at 15.

1

"Tim McGraw"

From: 'Taylor Swift'

Key Lyrics: "He said the way my blue eyes shined / Put those Georgia stars to shame that night / I said, 'That's a lie' / Just a boy in a Chevy truck / That had a tendency of gettin' stuck / On backroads at night / And I was right there beside him all summer long / And then the time we woke up to find that summer gone"

Forever will the song "Tim McGraw" be associated with Swift; it was her debut single, released in 2006. She wrote the tender track during her freshman year of high school, drawing from a relationship with her then-boyfriend. It captures the sweet reminiscence of young love, the loss when it ends and the unmistakable talent Swift embodied at an incredibly young age. Even though she wrote the song about her senior boyfriend, knowing they'd break up when he left for college, listeners can connect to this song whenever they encounter love and loss.