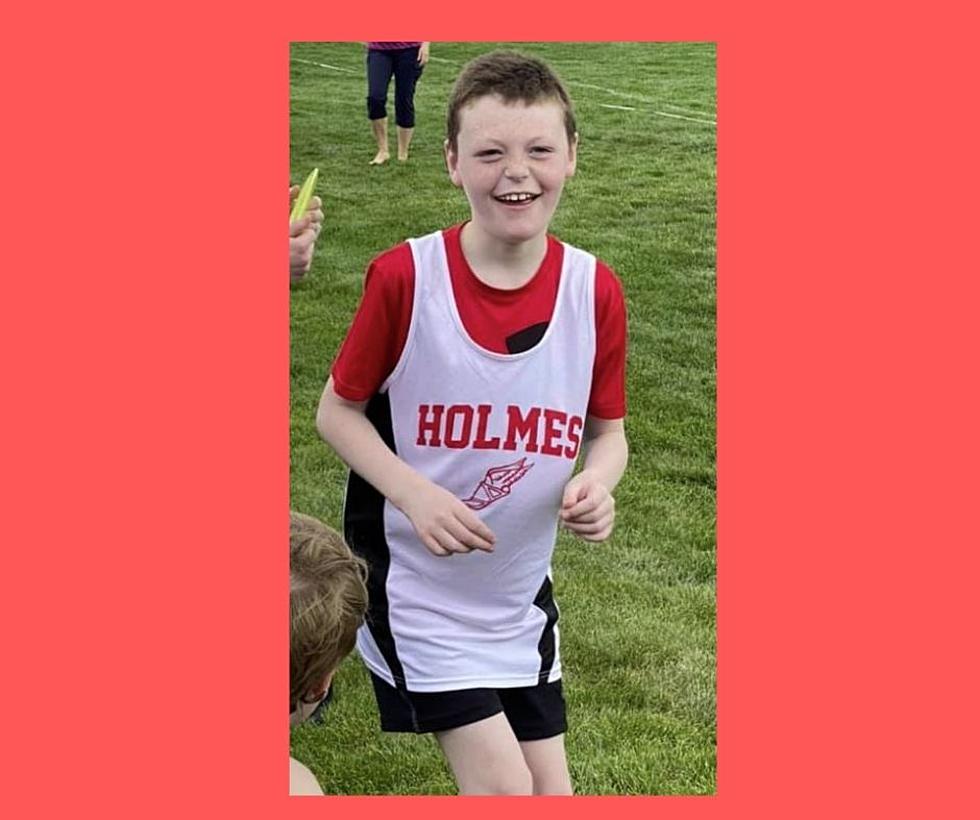 Special Needs Cedar Falls Teen Runs His First Track Meet Race [Video]
Courtesy - Amanda Weichers via Facebook
When I watch the video (below), I can't help but think of the Beatles' song, "(Oh, I get by) "With A Little Help From My Friends". It also gives you hope that there are still good people in the world!
13 year old, Beau Weichers is a special needs student in 7th grade at Holmes Junior High in Cedar Falls. Beau was born with a very rare genetic condition (#ZBTB18), there are only eight known cases in the world. When he was set to participate in his first junior high track meet on Tuesday night, his mother, Amanda Weichers had all the usual concerns you would expect from a parent of a special needs child. "What am I going to say to these kids if they make fun of him? They aren't used to him and what if they say mean things?"
Her fears were eased quickly, first during the discus throw and then during the shot put as his teammates were cheering Beau on. But what about the other kids at the meet? When Beau was set to run his first race, something special happened. One of his Holmes' teammates, Brennen Hoyer began to guide him and encourage him down the track. Two young men from Peet Junior High and Dike-New Hartford knew just what to do, and joined in clapping and encouraging him, and finished by patting him on the back when the race was over. The sportsmanship shown by the other boys and the fans was refreshing.
Chasity Hoyer asked her son Brennen, "why he didn't mention this last night, he said it's not a big deal, that's what friends do. He said he makes it a point daily to find Beau in the hall and say "Hi". He was like, he's just my friend".
Check out the video below and listen to that crowd! Warning: your eyes might start leaking...
Weichers wants to continue to spread the message about the importance of inclusion. Her family leads a non-profit group called Beau's Beautiful Blessings. The organization is very active in the community, as they fundraised and built the fully inclusive playground "Place to Play Park" in Cedar Falls. They've also been able to help children in the state of Iowa that have brain injuries, brain abnormalities, intellectual disabilities and/or epilepsy.
When you hear people talk about inclusion, it's not just for the child with special needs, it benefits EVERYONE involved. As evidenced from what happened at the track meet. Not only were his teammates and family supporting him, but complete strangers in the stands were cheering and clapping, and members of the other teams were congratulating him and giving him "fist bumps".
It's easy to get disillusioned by the world we live in, with all of the social unrest and political divide. At times, it seems that compassion and tolerance are severely lacking. That being said, as adults, I think we can take a cue from the example the younger generation is making...be kind, be patient, be a good friend. #Inclusion matters.
SIGN UP TODAY: Summer Iowa Games - Register for One of These Fun Events - Photos
Registration is now open for many of the over 50 sports offered during the Summer Iowa Games. Most of the competitions will be held from July 10 - August 1. The majority of the sporting events and competitions will take place in the Ames community, Iowa State University campus and in the Des Moines area. Check out the full list of events
here
. Most events will have an early, middle and final deadline. Check your favorite sport for details and deadline dates. If you get signed-up early, you'll save on registration fees.
CHECK IT OUT: 10 Commandments of Living in the Cedar Valley
It doesn't matter if you're here for good, just visiting, or a former resident. You know these 10 C.V. commandments.