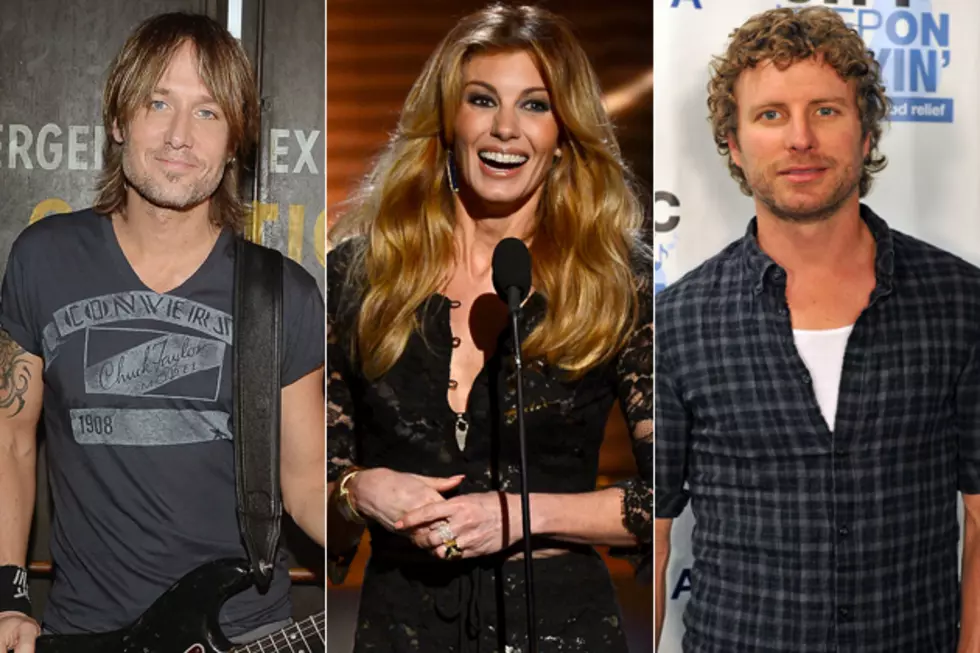 The 10 Sexiest Songs in Country Music
Theo Wargo / Ethan Miller / Frederick Breedon, Getty Images
Sexy songs play a big role in country music.
Need a romantic ballad to put you in the mood? Looking for just the right hit to crank up the heat? From sultry slow-burns to five-alarm infernos, there's a sexy country song for every situation -- and a reason so many country tunes rhyme "fire" with "desire."
So, grab a cold shower (or a fire extinguisher) and cozy up to our countdown of country's most seductive, heart-pounding, pulse-racing, blood-pumping ... uh, what were we saying? Oh, right -- enjoy this countdown of the 10 Sexiest Songs in Country Music:
10

Lustiest Lyric: "Let the water wash our bodies clean and love wash our souls."

Urban can't be bothered with mundane household chores. He obviously has other things on his weekend "to do" list -- and making the bed isn't one of them.

9

Lustiest Lyric: "Darling just once, let yesterday go / You'll find more love than you've ever known."

Memories can be a powerful thing. But no one needs a third person in the room when you're trying to be intimate, as Whitley points out in this sexy song.

8

Lustiest Lyric: "I even think I saw a flash of light / It felt like electricity."

That dizzy feeling you're experiencing could be all that spinning on the dance floor. Or it could be having a guy actually tell you what he's really thinking and feeling.

7

Lustiest Lyric: "The closer you get, the more my body aches."

A little fire can be a dangerous thing. But it's not the unattended candles that are the fire hazard in this chemical-altering come-on.

6

Lustiest Lyric: "You're still the one that I love / The only one I dream of."

Twain does a number on all the senses in this tender (if now somewhat ironic, in light of her divorce from Robert John "Mutt" Lange) bit of romantic rumination. And the dreamy music video conjures up all kinds of possibilities.

5

Lustiest Lyric: "We'll fall asleep here in the moonlight / In tangled sheets / We'll be here all night."

Who says caring about the environment can't be sexy? Save electricity by listening to the radio in the dark. Next, dance together naked and keep the thermostat set low.

4

"Let's Make Love"

Faith Hill and Tim McGraw

3

Lustiest Lyric: "Just let me whisper things you've never heard before."

The motives may not be clear, but "a while" doesn't exactly sound like a long-term commitment, which could be a plus. What exactly is a "wonderama" anyway?

2

Lustiest Lyric: "Every inch of you against my skin / I wanna be stronger than we've ever been."

It sounds like Bentley might have some making up to do. And by the time he says he "feels like stripping it down" -- whether he means it literally -- all is most likely forgiven and forgotten.

1

Lustiest Lyric: "Caught up in the touch / The slow and steady rush."

Whether you're caught up in a fantasy or swept away by reality, forget fire hazards, the real danger is hyperventilating. "Just breathe?" Thanks for the reminder!