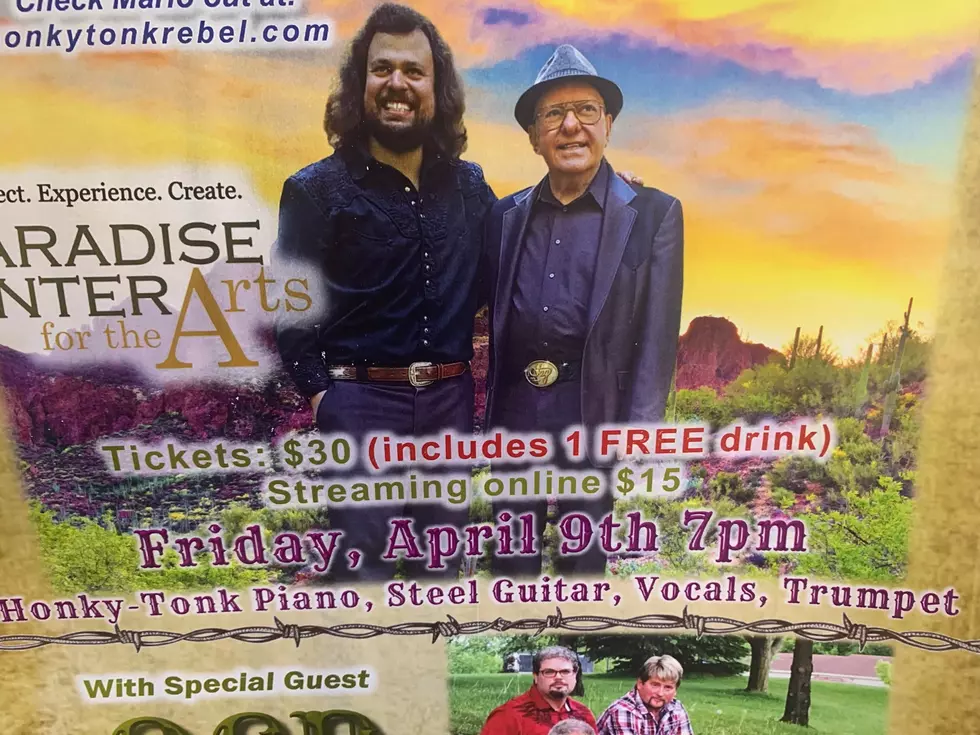 Paradise Center for the Arts Has First Music Concert in Months
PCA Concert Poster. Photo by Gordy Kosfeld
Heidi Nelson, Executive Director of the Paradise Center for the Arts (PCA) in Faribault is "excited" for the first in-person concert in awhile in the building.
The Rebel and The Stranger with special guest Old Country Boys perform Friday, April 9, 2021 at 7:00 p.m.  Tickets are $30 with a free beverage included,  The performance is also being live streamed for $10 per household.
Here is how Friday's event is billed on the PCA website.
"The Honky-Tonk Rebel" Mario Carboni and "The Stranger" Norm Hamlet,"Merle Haggards pedal steel guitarist and band leader of 49 years!" have teamed up and with the combination of Mario's unstoppable piano performance , his soothing vocals paired with Norm's legendary steel guitar mastery that they have blended into an amazing show that delivers a "true classic country evening!"
Norm will share some of his favorite memories of the decades he toured with "The Hag" and "The Strangers!" Both Mario's and Norm's hands will be projected on to a large screen during the performance so everyone gets to enjoy a close up look of the magic that is happening on stage!
The Old Country Boys will be warming up the stage for an epic evening of all your classic country favorites on one stage!"
Nelson emphasized the education classes being offered have included a virtual component that will stay even after the pandemic is over.
The PCA Executive Director believes they are on track to raise the $250,000 needed to receive a match from the City of Faribault so they can end their mortgage.
Currently Nelson says, "We are just under $120,000 left to raise before out collaboration with the City of Faribault happens.  We're excited. So if people out there are waiting to see,before becoming a member of the 100 club, very soon the door is going to be closing.  My goal is that we have all of that raised by July 1, 2021 and it looks like we're on target to do just that."
The 100 Club requires a $2,500 donation.  The donor receives a lifetime membership to PCA, receives a invitation to a yearly party celebrating the mortgage payoff.
Speaking about entertainers check this out.
LOOK INSIDE: Kid Rock Is Selling His Grand $2.2 Million Detroit Mansion