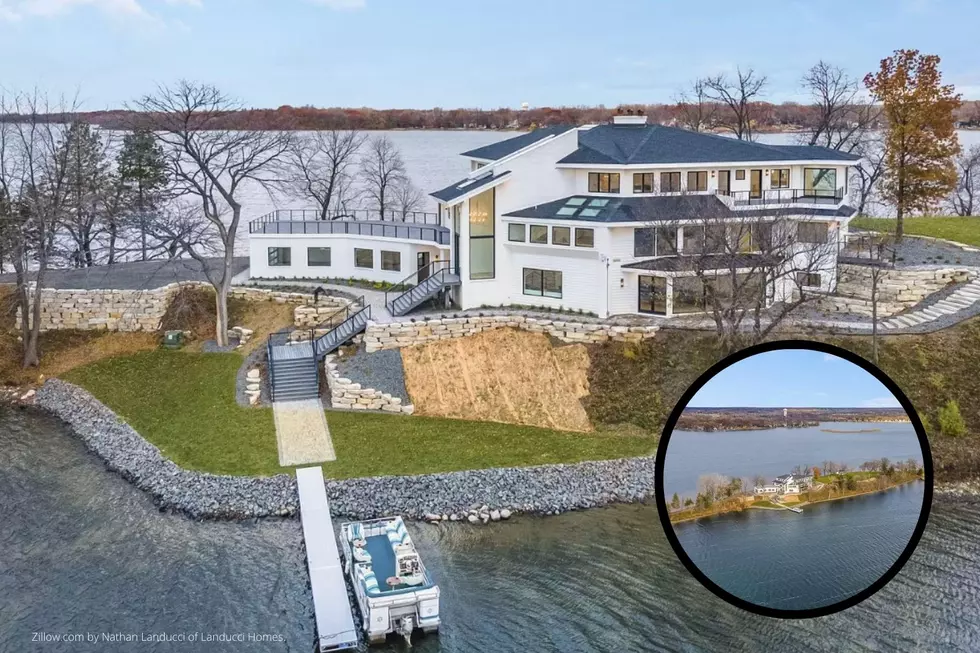 Massive Minnesota Home for Sale Includes Island and Hovercraft
Zillow.com by Nathan Landucci of Landucci Homes.
$6.6 Million Home on an Island in St. Paul, Minnesota Comes with a Hovercraft
Are you ready for your mouth to hang open in amazement?!  There is a home in Minnesota that's for sale right now for $6.6 million that has an indoor racquetball court AND one of the most amazing theater rooms I've ever seen.  There are stars and lights on the ceiling!  Oh, and it sits on an island all alone and comes with a Hovercraft.
Breathtaking Home on an Island in Minnesota Comes with a Hovercraft
If you've ever wanted to live on an island, you are in luck because there is a gorgeous home for sale in Minnesota that is smack dab in the middle of water. It even comes with a Hovercraft!
One Bald Eagle Island is currently listed
for $6,600,000 and features 5 bedrooms, 9 bathrooms, and over 9,700 square feet. According to the listing on Zillow.com, the home was completely rebuilt and is now a Smart home controlled by iPads and also comes fully furnished with RH furniture.
Some of the really cool features that you can see in the photos below are the racquetball court as well as the home theater that has one of the coolest star ceilings!
Check Out The Full LIsting for 1 Bald Eagle Island in St. Paul, Minnesota
Amazing home, right?!  The entire 1985 home was rebuilt and now includes so many luxuries, it seems more like a dream than a home that actually exists.  Just in case you are interested and have $6.6 million, you can see the full listing for One Bald Eagle Island on Zillow.com by Nathan Landucci of Landucci Homes.
Picture-Perfect Modern Farmhouse Home Now for Sale in Byron for $2,375,000!
I am currently asking Siri how I can make a million dollars in 30 days because I finally found the house of my dreams!  It's everything farmhouse that I love and it is close to Rochester, Minnesota so I can still keep my day job.  I'm fine commuting from Byron.  I mean, Bear Paw Coffee is about to open up so no biggie.  There's just one issue...this dream house is $2,375,000.
While I am working on getting pre-approved (and coming up with a secret stash of cash), I thought I'd give you a sneak peek of where I will soon be living.
Picture-Perfect Farmhouse Style Home for Sale Near Rochester, Minnesota
The words I'd use to describe this new house for sale near Rochester, Minnesota are gorgeous, farmhouse, perfect, and mine.
I'll let you look at the photos of this 1985 built, 5 bedroom, 5 bath, 5,900+ square feet home below but just know, if a miracle happens and I can afford the $10,000+ monthly mortgage on this house, it is mine.
Besides feeling like Chip and Joanna Gaines designed this home just for me, I really love the fact that this house has geothermal features.
Once this house is mine, I'll let you come over and sip some wine on the massive front porch with me. I just don't have patio furniture so you might need to bring a lawn chair with you so you have a place to sit.
See the full listing for 7200 40th Street SW in Byron, Minnesota by Realtor Denel Ihde-Sparks - Remax Results here.
My First Dream Home in Minnesota Had an Ice Rink, Brewery, and a Minnesota Twins Connection
Do I want to live here?  Yes, desperately.  This isn't the first dream house I've spotted in Minnesota though.  A few years ago, a home that checked off all the boxes for me went on the market.  It was farmhouse fabulous also!  Oh, and a Minnesota Twins player used to live there.  You can see some photos below to see how amazingly awesome, and Minnesotan, this house truly was.  I mean, it had an ice rink AND a brewery!  Just under $2,000,000 was the price tag for this dream home.
Besides not being to afford it, the location was a bit outside of my available commuting distance because it was in Lakeville.  Shhh....Don't tell the bosses but I was willing to relocate and/or "find another opportunity" if it meant I could live in this dream.
DREAM HOUSE: Perfect Minnesota Home For Sale Features Brewery and Ice Rink
I heard that Glen Perkins, former Minnesota Twins pitcher, was selling his phenomenal home located in Lakeville, Mn. The house is located at 24729 Dodd Boulevard in Lakeville and has 5 bedrooms, 5 bathrooms, and 5,823 square feet. All of that for just $1,999,999. It truly is the perfect house for anyone in Minnesota and honestly, the price is a steal. You can see the full listing
here.
Take a look at the photos below and see this gorgeous home for yourself!