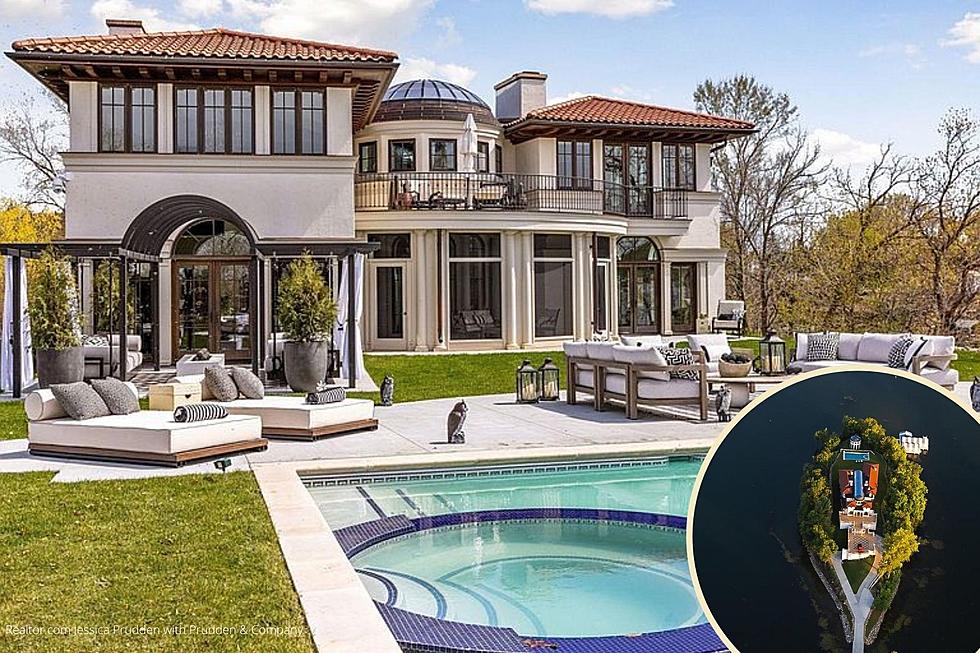 Gorgeous Multi-Million Dollar Minnesota Home On Island Built For Celebrities
Realtor.com Jessica Prudden with Prudden & Company
Almost $9 Million Home in Minnesota Looks Like It Was Built for Batman
Have you ever just browsed Realtor.com to see how "the other half lives"?  I do all the time and found an amazing house in Greenwood, Minnesota that I will never be able to afford.  It is pretty amazing though because the house sits on an island AND it has its own tunnel that leads to an underground garage.  Yeah, just like Batman!  And check out the windows on the ceiling in the photos below, and tell me those aren't perfect to see the bat signal.
Almost $9 Million Dollar House in Minnesota That is Going To Make Your Jaw Drop
You know those huge houses that are in movies? I've always wondered if the mansion where Batman lives is real. Or you know the party scenes for some of the Mission Impossible movies where there are a ton of people and somewhere in the crowd are the good guys who are trying to find the bad guys? This house in Minnesota is one of those places and it could be yours for almost $9 million. In fact, I'm pretty sure this house could actually be Batman's house because it is on its own island AND you go through a tunnel to get to the 8-stall garage.
According to
Realtor.com,
this house in Greenwood, Minnesota is listed by Jeffrey Dewing of Coldwell Banker Realty and as you can see from the photos, it is a masterpiece. It sits on 1.37 acres, has 5 bedrooms, 9 bathrooms, has almost 14,000 square feet, one of Minnesota's largest residential glass-enclosed atriums, an elevator, movie theater, gym, sauna, locker room, relaxations room, not just one but a double wine room, bar lounge, poker room, and an indoor grotto.
The home was previously listed for $15 million by Jessica Prudden with Prudden & Company.
Your next dream home is listed at just $8,995,000 by Jeffrey Dewing of Coldwell Banker Realty and you can see the full listing for 5570 Maple Heights Rd in Greenwood, Minnesota here.
What do you think, is this house more Batman or Mission Impossible?
I'm still in awe that this house exists in Minnesota and that it is just 90 minutes from Rochester, Minnesota.  So, what do you think?  Is this more of a Batman or Mission Impossible house?  Let me know what your favorite part was over at my Facebook page - Jessica On The Radio - or on Instagram.
Now, for a completely OPPOSITE type of house, check out this one in Minnesota full of dead animals.
Imagine a house so big that you could have a full-size giraffe inside, looking at you as you sit on a couch.  If you can't imagine it, just look below because that house and the actual room is here in Minnesota.  See it for yourself below.
Shocking Million-Dollar House in Minnesota is Full of Exotic Dead Animals
WARNING: If dead animals or walking through Cabela's makes you squeamish, don't look.
When you think of a million-dollar house, do you dream of being surrounded by a polar bear, giraffe, or huge fish? If so, there is a 4 bedroom, 5 bath house in Cold Springs, Minnesota that may be the perfect fit for you because there are dead animals everywhere. Scroll through the photos and you'll see what I'm talking about real fast.
According to Realtor.com, the property is listed by Chris Hauck at Coldwell Banker Realty - St. Cloud / Sartell for $1,449,000.