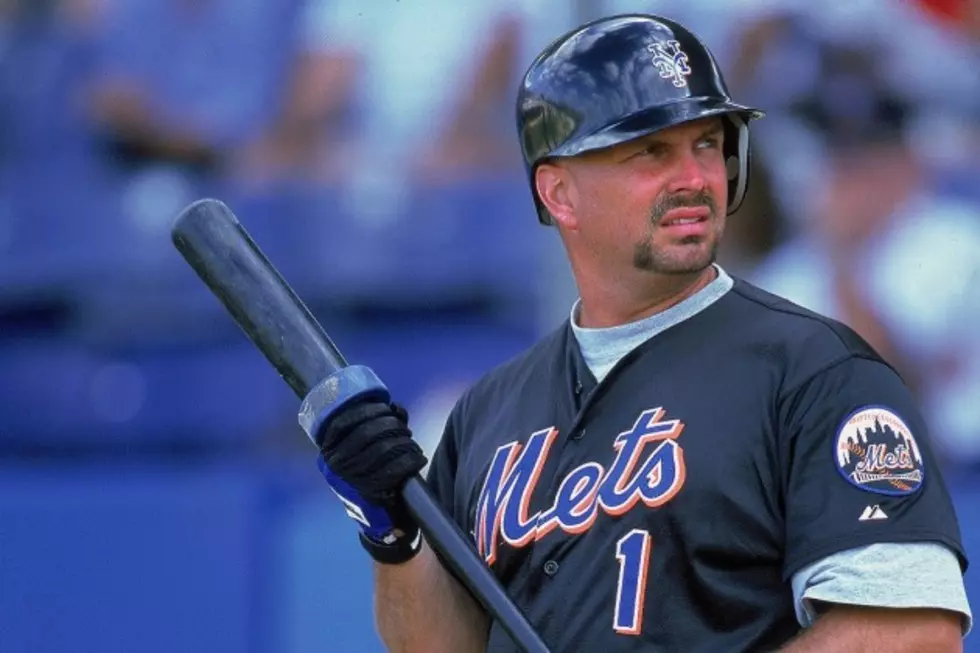 21 Years Ago: Garth Brooks Wraps Up Spring Training With the New York Mets
Matthew Stockman, Getty Images
Not quite everything Garth Brooks touches turns to gold. Twenty-one years ago today, on March 19, 2000, the singer wrapped up spring training with the New York Mets, without securing a spot on the team.
In high school, Brooks played both football and baseball; he also ran track and field, and received a track scholarship to Oklahoma State University. After moving to Nashville and growing and growing his country music career to superstar level, Brooks signed with the San Diego Padres for spring training, in both 1998 and 1999. However, when the Padres didn't offer him a contract, Brooks switched to the New York Mets in 2000.
Unfortunately, Brooks' performance wasn't as strong on the baseball diamond as it is onstage. After having a zero-for-17 batting record during Spring Training, the Mets released the Oklahoma native from their roster.
Brooks tried one more time to have success as a professional baseball player, in 2004, with the Kansas City Royals. Although he still did not secure a spot on the team, he insists that he has no regrets.
"Everything is fun, but the locker room is the most fun," the "Friends in Low Places" singer told ESPN. "It's non-stop. These guys are on each other just all day long. But if someone outside says something about them, they let them have it."
Brooks has said that he used his time with various baseball teams to promote his Teammates for Kids Foundation. Founded in 1999 to provide financial assistance to charities for children, Teammates for Kids asks professional athletes to donate a predetermined amount of money based on their game performance; Troy Aikman, Anthony Munoz and Larry Walker are among the more than 3,000 professional athletes who are a part of the organization. In 2019, Brooks participated in spring training with the Pittsburgh Pirates to celebrate the 20th anniversary of Teammates for Kids.
This story was originally written by Gayle Thompson, and revised by Annie Zaleski.
PICTURES: Garth Brooks' Wackiest Shirts
WATCH: Test Your Garth Brooks Knowledge!