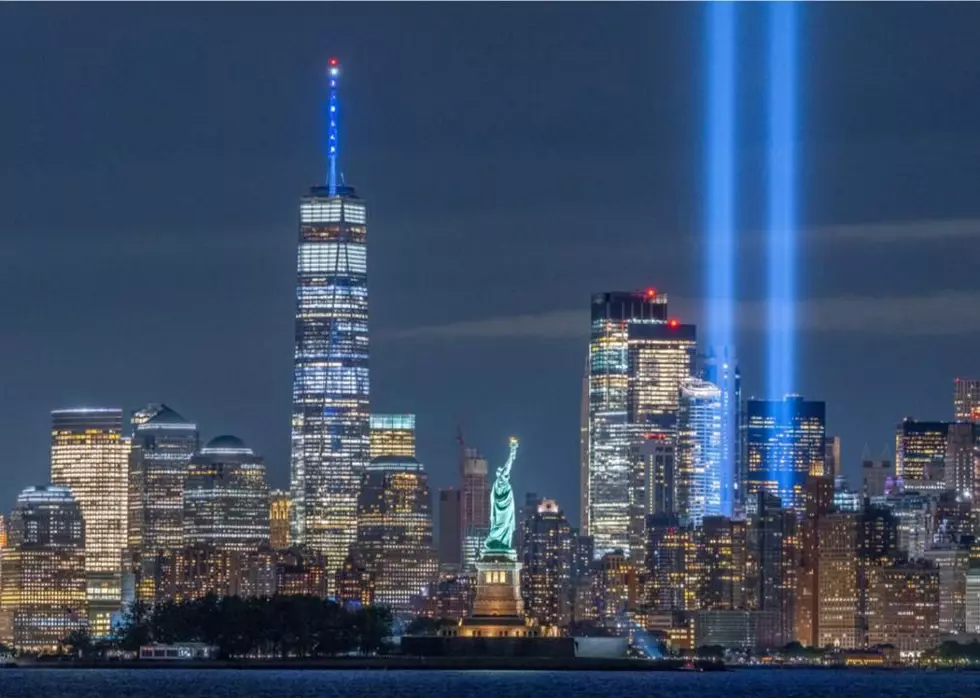 Former Southeast Minnesota Law Officer Shares 9/11 Memories
BLAZE Pro // Shutterstock
Rochester, MN (KROC AM News) -  Many Americans are taking time to remember 9/11 - the day itself and the victims of the day, those who died that day, those who later died as a result of the terror attacks and those who were hurt.
In southeast Minnesota, many adults were at work and children were in school on that Tuesday morning 20 years ago. For many of those old enough to remember that day, the memories remain sharp and clear and may never fade.
A former longtime law officer from southeast Minnesota shared his memories of that
day on the KROC AM News Facebook page on Friday and we want to share what he wrote with you. Bill Spitzer also served as mayor of St Charles for 10 years:
I remember that day like it was yesterday. I was working at the Sheriff's Office and on my drive into the office, I enjoyed the beautiful blue skies of an early fall day. I was on office duty that day and was working in my office on the lower level of the Law Enforcement Center (LEC). We always had the 19' TV going in the breakroom and I walked past it that morning like I had many morning before. As usual, the TV would run constantly on a news or weather channel. On Sept 11th, it was a news channel.
I settled into my office and began working when a co-worker announced that a plane had just crashed into the World Trade Center in NY. I thought, that is odd and walked out to the TV to see if it was on the news. Within minutes of me watching, I watched the second plane crash into the second WTC building! I was speechless as I remained glued to the TV for several moments. I later walked upstairs to the Sheriff's Office to see if we were under any alerts? The Sheriff and Chief Deputy were also watching an even smaller TV in his office. Within moments of me entering the office, a plane crashed into the Pentagon. We all paused as we stared at the TV. I wondered, who was next MSP, LA? It was a surreal morning!
After my shift that day, I remember stopping at the catholic church. The doors were open as usual, so I walked in. I was the only one there. I rarely entered a church in full uniform but thought I really need to do this! I remember kneeing as I was praying for our country, the lives lost and the hope we would get through this tragedy. I remember going home and wondering what will I say to our kids to help them understand as well as feel safe? We talked but I knew that our our world would change forever!
I'm still in amazement that anyone would do such a horrible act and relate it to what our country must have been like after Pearl Harbor. I still get a horrible feeling every time I see the images of that day but am amazed at the stories of survival. I remember the days and weeks after the attack as officers/firefighters were volunteering to go to the pile. I had thought about it but wondered what help I might be among the thousands of first responders already there or on the way. Many brought back photos and I will be honest, today was only the second time I have looked at them! The one thing I remember most about the days after was how kind everyone was to each other, it was true #unity. I also remember the vast number of American flags and how many businesses displayed "God Bless America" signs.
We visited the WTC site in 2003 and I remember walking the wooden sidewalks around the site. All that remained were two large holes in the ground. It was a gloomy rainy day, I suppose it was fitting for our visit. I want to visit again to see the memorials of a day many of us will never forget!
Thank you for giving permission to share my account as I don't think I have shared this with anyone before today. May we Never Forget!
This is the Facebook post where Bill shared his memories:
NEVER FORGET: Images from 9/11 and the days after