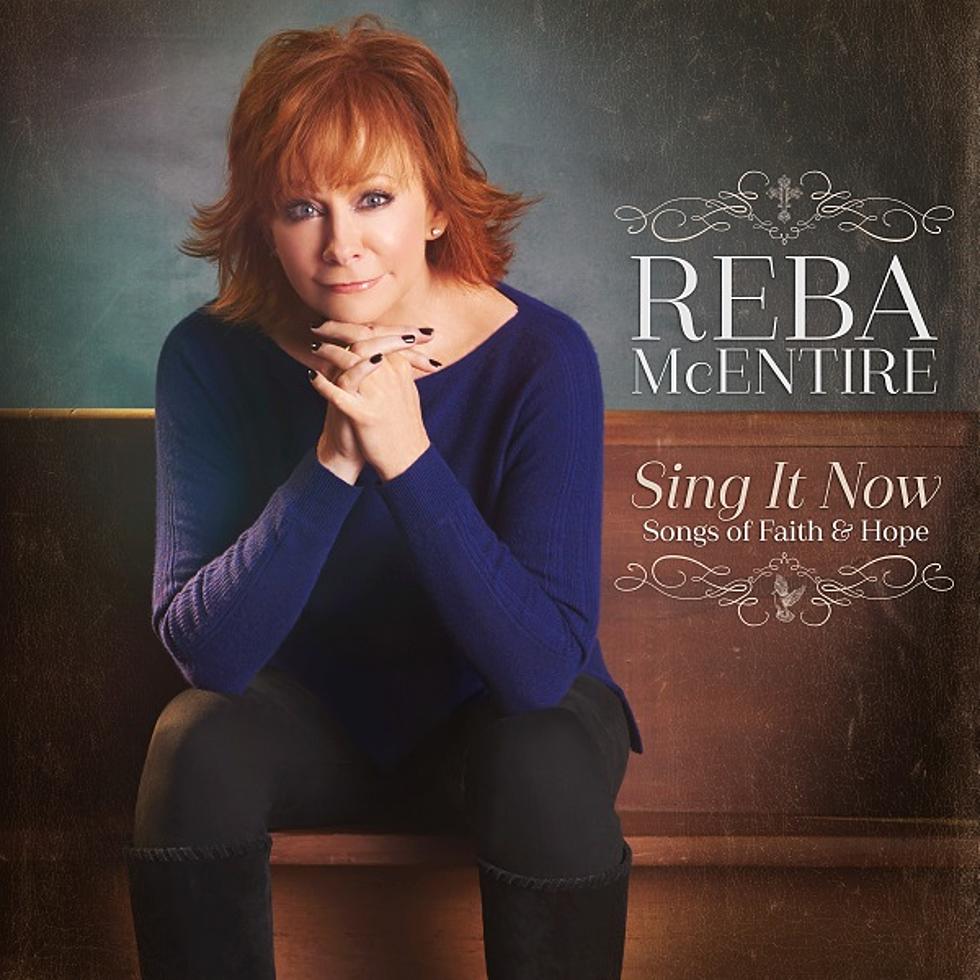 Everything We Know About Reba McEntire's New Album, 'Sing It Now: Songs of Faith & Hope'
Nash Icon
McEntire's new project is a treat-times-two for country fans: It's a double-disc, 21-song collection of 10 traditional hymns, 10 contemporary songs and one hidden track. And since McEntire made her announcement, The Boot has been collecting every detail on Sing It Now, so you know exactly what to expect once it's released. Below, find everything we know so far.
The Title
"Sing It Now[: Songs of Faith & Hope] was the perfect title for this album because the message and melody throughout the song connects the dots between the traditional hymns I grew up on and new music that has been uplifting for me in challenging times," McEntire says of her new record's title in a press release.
The Release Date
Sing It Now: Songs of Faith & Hope will be released on Feb. 3.
Fans can pre-order Sing It Now on iTunes and be rewarded: Those who pre-order McEntire's album will receive an instant download of "Softly and Tenderly," which the country icon recorded with Kelly Clarkson and Trisha Yearwood. Other special fan pre-orders include items such as an autographed CD or vinyl, a T-shirt, a leather journal, a framed autographed print and more; details on those bundles can be found on Reba.com.
The Record Label
Sing It Now: Songs of Faith & Hope is a joint release from Nash Icon Records (McEntire's label home) and Capitol Christian Music Group.
Nash Icon, a joint venture of Cumulus Media and Big Machine Label Group, first signed McEntire in 2014; Martina McBride and Ronnie Dunn are also signed to the label. Capitol Christian, meanwhile, is a leader within the Christian music genre.
The Album Cover
The Sing It Now: Songs of Faith & Hope album cover features McEntire sitting on a church pew, wearing a blue top, black pants and black boots. She looks as vibrant as always with her signature red hair, and the photo is simple and demure: McEntire's hands are clasped, and her chin is resting on them.
The Producers
McEntire, Rascal Flatts' Jay DeMarcus and band leader / musical director Doug Sisemore co-produced Sing It Now: Songs of Faith & Hope together in DeMarcus' home studio. DeMarcus has produced many projects over the years, including albums from Kix Brooks, Alabama, Jo Dee Messina and more.
The Single
"Back to God" is McEntire's very first single from Sing It Now: Songs of Faith & Hope (though fans heard "Softly and Tenderly" first, just after the singer announced the record). Randy Houser and Dallas Davidson co-wrote "Back to God;" in fact, it was featured on Houser's debut album, Anything Goes, released in 2008.
 "You gotta cry, rain tears of pain / Pound the floor and scream His name / 'Cause we're still worth saving," the lyrics of "Back to God" say. The chorus continues, "We can't go on like this and live like this / We can't love like this / We gotta give this world back to God."
McEntire's Facebook Live session announcing Sing It Now took place on the set of her "Back to God" music video; she released the clip on Jan. 25.
The Music Video
When McEntire announced Sing It Now: Songs of Faith & Hope during a Facebook Live chat, she also revealed some details about the music video for "Back to God": The clip was shot on Nashville's East Side, at Tulip Street United Methodist Church, which opened its doors in 1859, as well as at Mount Olivet Cemetery.
During her Facebook Live event, McEntire also mentioned that lots of people showed up to participate in the video -- and, indeed, the clip features a set of storylines that all weave together in the end. There is brokenness, certainly — but the community aspect of the video makes something beautiful out of grief.
The Songs and the Songwriters
Among the 21 songs on Sing It Now: Songs of Faith & Hope are the gospel classics "Amazing Grace," "I'll Fly Away" and "Softly and Tenderly." Other songs on the release include "Jesus Loves Me" (the first song that McEntire ever sang in public), "Oh Happy Day," "From the Inside Out," "Oh, How I Love Jesus," "When the Roll is Called Up Yonder" and several other beloved traditional hymns.
The included recording of "I'll Fly Away" is particularly personal: "Music conjures up great memories and goes hand and hand with us McEntires," McEntire shares. "Mama, Susie and Alice even came into the studio with me to record "I'll Fly Away," all of us gathered around an old hymnal straight from the Chockie church."
Country music fans will see many well-known names listed in Sing It Now's writing credits. In addition to Davidson and Houser, Jessi Alexander, Sarah Buxton, Steve Moakler, Dave Barnes, Lucie Silvas, Jeremy Spillman, Chris DuBois, Ashley Gorley, Michael Dulaney, Jason Sellers and Neil Thrasher, to name a few, helped pen tunes for the project. "I Got the Lord on My Side," the sixth track on the record's contemporary disc, was written by McEntire and her mother, Jackie McEntire.
Reba McEntire, Sing It Now: Songs of Faith & Hope Track Listing:
1. "Jesus Loves Me" (written by William Batchelder Bradbury; arrangement by Reba McEntire)
2. "Oh, How I Love Jesus" (written by Frederick Whitfield; arrangement by Jay DeMarcus, Tim Akers)
3. "When the Roll Is Called Up Yonder" (written by James Milton Black; arrangement by Reba McEntire, Catherine Marx, Doug Sisemore)
4. "Oh Happy Day" (written by Edward Francis Rimbault; arrangement by Jay DeMarcus, Tim Akers)
5. "Amazing Grace" (written by John Newton; arrangement by Reba McEntire, Doug Sisemore)
6. "I'll Fly Away" (written by Albert E. Brumley; arrangement by Reba McEntire, Doug Sisemore)
7. "In the Garden / Wonderful Peace (Medley)" (featuring the Isaacs) ("In the Garden" written by Austin C. Miles, "Wonderful Peace" written by Warren D. Cornell; medley arrangement by Jay DeMarcus, Tim Akers)
8. "Swing Low, Sweet Chariot / Swing Down Chariot (Medley)" (written by Wallace Willis; arrangement by Reba McEntire, Doug Sisemore"
9. "How Great Thou Art" (written by Stuart K. Hine; arrangement by Doug Sisemore)
10. "Softly and Tenderly (feat. Kelly Clarkson and Trisha Yearwood)" (written by Will Lamartine Thompson; arrangement by Doug Sisemore)
1. "Sing It Now" (written by Michael Farren, Joseph Habedank, Tony Wood)
2. "Angels Singin'" (written by Jessi Alexander, Sarah Buxton, Steve Moakler)
3. "God and My Girlfriends" (written by Patricia Conroy, Lisa Hentrich, Marcia Ramirez)
4. "Hallelujah, Amen" (written by Dave Barnes, Lucie Silvas, Jeremy Spillman)
5. "There Is a God" (written by Chris DuBois, Ashley Gorley)
6. "I Got the Lord on My Side" (written by Reba McEntire, Jackie McEntire)
7. "Back to God" (written by Dallas Davidson, Randy Houser)
8. "Angel on My Shoulder" (written by Leigh Reynolds, Amber White, Philip White)
9. "From the Inside Out" (written by Amy Fletcher)
10. "Say a Prayer" (written by Michael Dulaney, Jason Sellers, Neil Thrasher)
11. HIDDEN TRACK (physical copies only): "Jesus Loves Me (Reprise)" (written by William Batchelder Bradbury; arrangement by Reba McEntire)
Reba McEntire Through the Years
Unforgettable Reba McEntire Moments