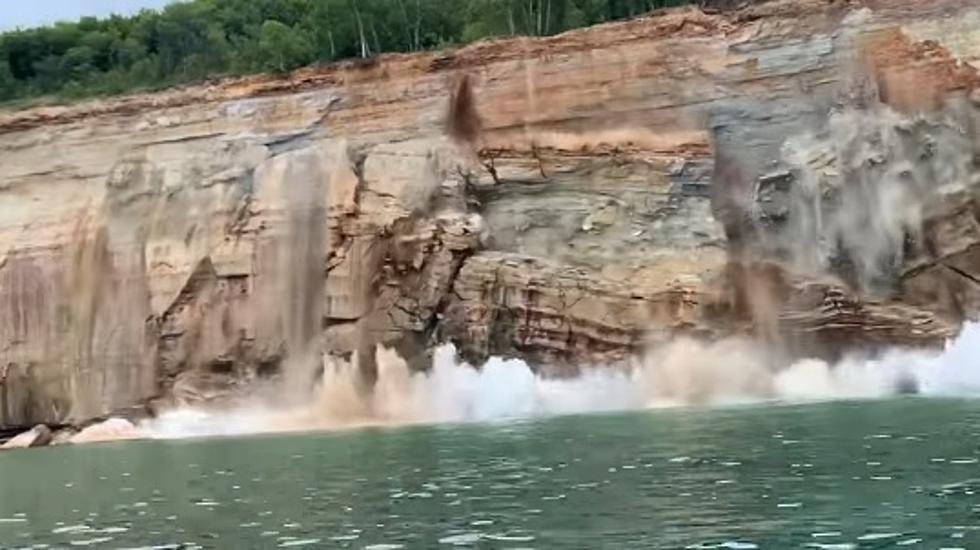 [watch] Amazing Video Captures Massive Cliff Falling into Lake Superior
Courtesy Ken Martin via Up North Live/Facebook
There's nothing like the power of Mother Nature, especially when her display involves sending part of a massive cliff into the waters of Lake Superior.
Which is exactly what happened over the weekend along the shores of Lake Superior at Pictured Rocks National Lakeshore, in Michigan's Upper Penninsula. My family owned a cabin in northern Wisconsin near Boulder Junction when I was a kid, and I think we stopped there one summer. It's a bit of a hike from Rochester, about 7 hours northeast of here, according to Google Maps.
But it looks like a beautiful place, filled with various hiking trails and stunning cliffs overlooking the southern shore of Lake Superior. (As opposed to Minnesota's North Shore, which has no shortage of scenic views of the lake.) It was there over the weekend where boaters witnessed a massive chunk of the entire cliff fall right off and into the water!
According to this USA Today story, the 200-foot cliff broke off and fell into the water-- falling anywhere between 200 and 50 feet before splashing into the lake. UpNorthLive, a TV station in Michigan's Upper Penninsula, quoted boater Ken Martin, who happened to be nearby on his pontoon when the big cliff came crashing down.
"We could hear the cliff wall popping and cracking and within 60 seconds a section of cliff approximately 200 feet wide fell before us," Martin told WLUC-TV in the USA Today story. "The splash and swell wave were very dramatic!"
The story noted that rockfalls there are regular occurrences, caused by vegetation, water seeping through cracks in the rock, or other natural phenomena. It's just that there usually isn't a video of it actually happening. Watch the amazing video below. (Just beware of some salty language in the clip!)
Speaking of lakes, falling rocks are just some of the dangers that can happen on Lake Superior, either over in Michigan, Wisconsin, or here in Minnesota. And seeing as Minnesota is home to over 10,000 OTHER lakes, keep scrolling to check out some other things to look out for if you're hitting the water this summer!
Listen to Curt St. John mornings from 6 to 10 on Quick Country 96.5
and afternoons from 2 to 6 on 103.9 The Doc
BEWARE! Look Out For These Dangers In MN Lakes!
After months of waiting, lake season is here! It's time to spend your days soaking up the rays and swimming in the refreshing water. Just make sure you watch out for these potential hazards.