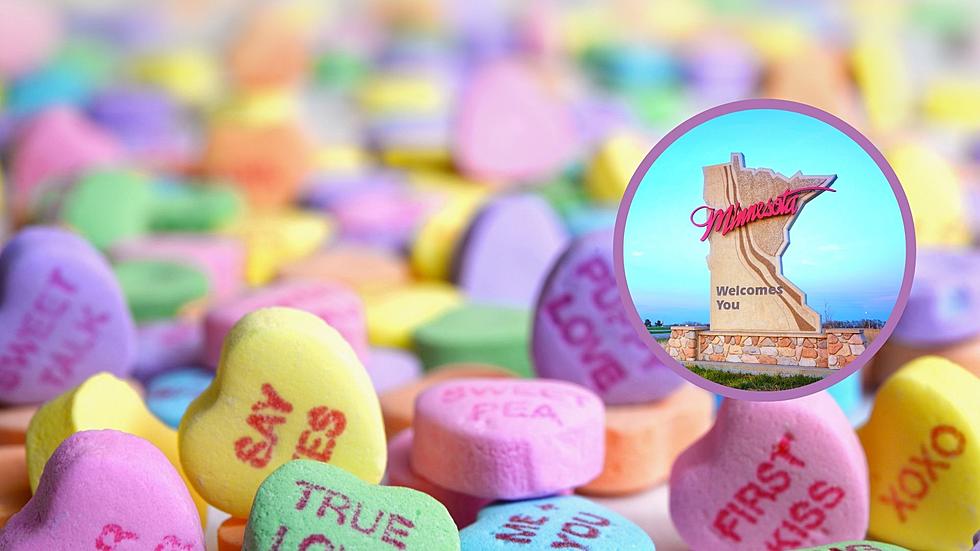 Check Out These 23 Cute Minnesota Sayings for Valentine's Conversation Hearts
Canva
You know those chalky heart candies that show up around Valentine's Day?  What if we took over the factory that makes those and instead of putting those cute, cheesy sayings on them, we printed Minnesota-themed candy hearts? 😍 While we wait for the keys to the factory to start printing, enjoy these fun Minnesotan phrases that were sent as suggestions.
23 Minnesota Themed Valentine Hearts That Might Not Taste Good But They Will Make Your Valentine Laugh.
You know those chalky, candy hearts that come in a box and have these cute sayings printed on them? We created our own "Minnesota Valentine Hearts" version. I can't guarantee that your Valentine will eat the chalky hearts but they will LOL when they open up the box and see the quotes and sayings below.
What's missing on the "Minnesota Candy Hearts" list?
I'd love to hear what Minnesotan word or phrase you'd add to the list.  Let me know over on my Facebook page - Jessica On The Radio.  You can also add your pick to the Facebook post below.
How many of these romantic comedies have you watched?
I know quite a few moms that would love to have a night at home on Valentine's Day when there are zero cartoons on tv.  Instead, waiting for her with a glass of wine or a bowl of popcorn and a beer is her favorite romantic comedy.  There are a ton to pick from and some that you could watch on repeat without any guilt.  But how many of the romantic comedy cliches are your go-to?  Look below and see where your favorite movie falls...you might figure out that your favorites have a lot of similarities.
The 10 Worst Romantic Comedy Clichés Of All Time
Here are the most annoying tropes we're tired of seeing in rom-coms.
Need a restaurant idea for Valentine's Day? Check out these top spots to enjoy a delicious, juicy steak in Southeast Minnesota
Top 15+ Places to Grab a Steak in Southeast Minnesota
I grew up with cows basically at every corner of my existence in Iowa. I didn't grow up on a farm but had no problem finding a good steak if I wanted to eat one...or corn. There was lots and lots of corn around too.
Southeast Minnesota is still in the heart of the good 'ol Midwest and finding steak isn't tough, but if you are looking for a place that has THE BEST, here's a list of places in and around Rochester, Minnesota that you might want to visit.