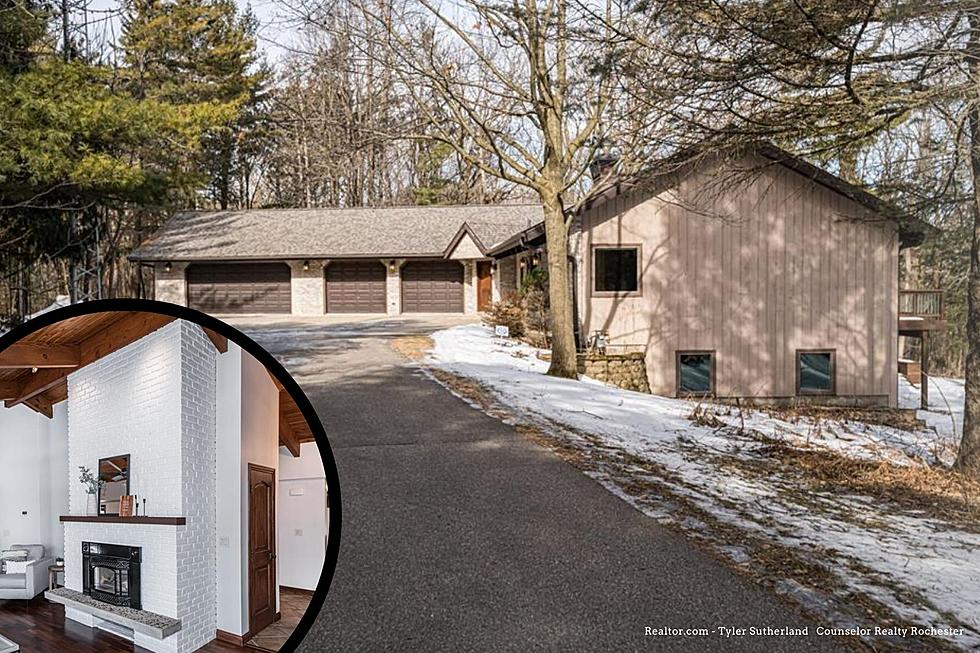 TRIGGER WARNING: New Million Dollar Home in Rochester is Hunters Dream
Tyler Sutherland Brokered by: Counselor Realty Rochester
TRIGGER WARNING - if you are a hunter, this latest million-dollar home that recently came on the real estate market in Rochester, Minnesota for $1,395,000 is your dream destination.  2837 75th Street NW features 30 acres full of wildlife and a home that is over 4,000 square feet and absolutely divine.
HUNTERS BEWARE - you might fall in love with this $1,395,000 home for sale in Rochester, Minnesota when you see the rack on that buck!
I've driven by this house over 1,000 times and had no idea that this piece of property all belonged to one home!  If you've been looking for mature trees, wildlife, and a home that is completely updated and has lots of room, this house is definitely worth a look.
Gorgeous Home on 30 Acres in Rochester for $1,395,000
Trigger Warning - if you are an avid hunter, you might get jealous at the wildlife found on this property. (Photos below to prove it!).
This is the perfect home for someone who has been on the hunt for land and gorgeous home that doesn't need any updating. 2837 75th Street NW in Rochester is now for sale and features not just 30 acres but a home that is absolutely stunning! It was built in 1970 but has been meticulously updated and features over 4,000 square feet with 6 bedrooms and 4 bathrooms.
See the full listing and availability
here.
I'm pretty sure that deer with the huge rack is one that several hunters have been looking for!  And holy turkeys!
If you are curious about availability or want to learn more, you can see the full listing and availability here.
Two More Million-Dollar Homes in Rochester, Minnesota That are Breathtaking!
Looking through Realtor.com to find my dream home is what I love to do in my spare time...or while I'm waiting for the kids to get done with their sports.  Everyone has to have a hobby and that is mine.  Well, the last few months, quite a few million-dollar homes have popped up on the real estate market that are just gorgeous that I'd be fine living in.
If you've always wondered what a million-dollar home might look like, check out the photos below of these homes that were recently for sale. Although they don't have as much land as the home at 2837 75th Street NW in Rochester, Minnesota, they do have some similar wildlife.
$1.75 Million-Dollar Home in Rochester Has Gorgeous Views for Miles & a Unique Staircase
Rochester, Minnesota has a ton of million-dollar homes and the latest for sale has 2 special features - gorgeous views for miles and a staircase that is one-of-a-kind. Check out the photos below to find those and also to see my favorite part of the house at 2650 Wild Rose Ln SW - the dining room! Absolutely gorgeous with all of the windows and the floors that is unique but just works for this room. View the entire listing by Isabelle Housmans at Edina Realty, Inc.
here.
Breathtaking $1.45 Million-Dollar Home for Sale in Rochester Is Picture-Perfect
A breathtaking home was listed by REALTOR Kara Gyarmaty at Edina Realty, Inc. in Rochester, Minnesota and if you love modern farmhouse style, this might be your dream home. The entire house is just over 6,000 square feet and features some really adorable rooms. There are 5 bedrooms, 4 bathrooms, and I even spotted a barn door in a few of the photos. If you are looking for a home with a "country" setting, this house is nestled on 2.09 acres and is surrounded by woods. If you've wanted to live in the coveted Mayowood Hills neighborhood, you'll just need $1,450,000 to make it happen. Drive by 2375 Hardwood Ct SW in Rochester and take a look at the photos below, you'll see that it is well that million-dollar price tag.