Everything We Know About Faith Hill and Tim McGraw's New Album, 'The Rest of Our Life'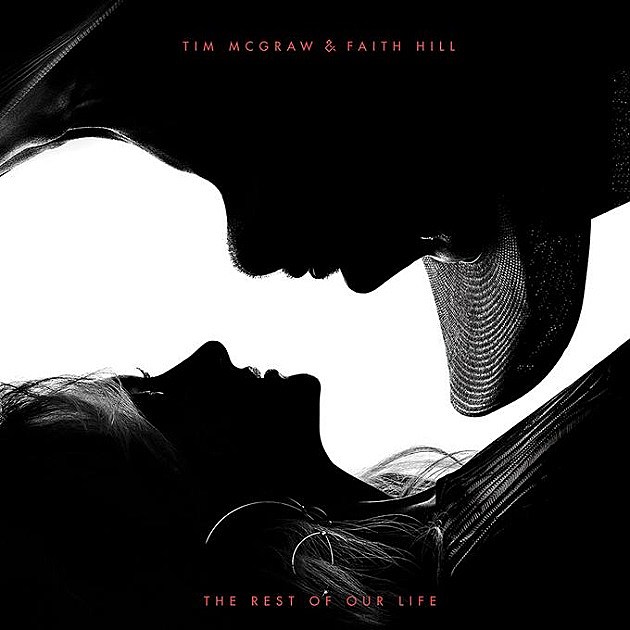 What's the only thing better than one beloved country superstar releasing a new album? Two beloved country superstars releasing a new album together! Country music's royal couple, Faith Hill and Tim McGraw, will team up to release a brand-new collaborative album in 2017.
In many ways, Hill and McGraw's announcement of their upcoming record should not come as a surprise. Since late 2016, the couple has teamed up for everything from a sold-out Ryman Auditorium show to a song for a movie soundtrack to a full-on tour. Still, the news that Hill and McGraw will come together for their first shared album, after more than two decades of marriage and almost three decades each in the music business, is thrilling.
Below, The Boot rounds up all of the information known about Hill and McGraw's forthcoming album.
The Title
McGraw and Hill's collaborative album will be called The Rest of Our Life. The couple announced that news on Oct. 6 — their 21st wedding anniversary — when revealing the record's second single.
The Release Date
The Rest of Our Life is due out on Nov. 17.
The Record Label
The new album from Hill and McGraw will be released through Sony Music Entertainment's Arista Nashville label. Both artists signed separate deals with the company in February; per reports, their contracts each involve "multiple solo albums" as well.
The Album Cover
The The Rest of Our Life album cover, which readers can see above, shows McGraw and Hill silhouetted against a white backdrop. Their names and the album's title appear in a red text.
The Producers
The producers for Hill and McGraw's upcoming album have not yet been announced, but its first single (see below) was co-produced by Byron Gallimore, McGraw and Hill.
The Singles
On March 23, Hill and McGraw released the first single from their new album, entitled "Speak to a Girl." The song was written by Shy Carter, Dave Gibson and Joe Spargur and co-produced by Byron Gallimore, McGraw and Hill. Hill says that, from first listen, she connected to the song "lyrically, melodically, everything."
"It's important that young women hear that message from the men in their lives and from the other women in their lives," McGraw adds (quote via B104). "It's important that the young men hear this message so they know how to speak to a girl."
The couple performed "Speak to a Girl" at the 2017 ACM Awards on April 2.
On Oct. 6 — McGraw and Hill's 21st wedding anniversary — the two announced "The Rest of Our Life," their new album's title track, as its second single. It was written by Ed Sheeran, Amy Wadge, Johnny McDaid and Steve Mac. That same day, Hill and McGraw also released the song's music video.
The Songs
In addition to "Speak to a Girl" and "The Rest of Our Life," The Rest of Our Life will include nine other tracks. One of the songs, "Break First," the couple has been performing while out on the road.
Tim McGraw and Faith Hill, The Rest of Our Life Track Listing:
1. "The Rest of Our Life"
2. "Telluride"
3. "The Bed We Made"
4. "Cowboy Lullaby"
5. "Break First"
6. "Love Me to Lie"
7. "Sleeping in the Stars"
8. "Damn Good at Holding On"
9. "Devil Callin' Me Back"
10. "Speak to a Girl"
11. "Roll the Dice"
The Tour
In conjunction with their collaborative album, Hill and McGraw have embarked on an impressive 60-plus-city tour. The 2017 Soul2Soul Tour kicked off on April 7 in New Orleans, La., and run through the end of October. The duo lined up a very impressive set of opening acts, including the Brothers Osborne, Seth Ennis, Jon Pardi, Chris Lane, Caitlyn Smith, High Valley, Charlie Worsham, Lori McKenna, Rhiannon Giddens, Maggie Rose, Natalie Hemby, Brent Cobb, Eric Paslay, Brandy Clark, Cam, Chris Janson, Steve Moakler, LoCash and Margo Price.
Faith Hill + Tim McGraw's Relationship in Pictures
Unforgettable Tim McGraw + Faith Hill Moments
Subscribe to KFIL on

Source:
Everything We Know About Faith Hill and Tim McGraw's New Album, 'The Rest of Our Life'